01.12.2017 | Research article | Ausgabe 1/2017 Open Access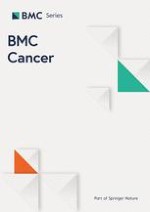 The repressive effect of miR-148a on Wnt/β-catenin signaling involved in Glabridin-induced anti-angiogenesis in human breast cancer cells
Zeitschrift:
Autoren:

Juan Mu, Dongmei Zhu, Zhaoxia Shen, Shilong Ning, Yun Liu, Juan Chen, Yuan Li, Zhong Li
Wichtige Hinweise
Electronic supplementary material
The online version of this article (doi:
10.​1186/​s12885-017-3298-1
) contains supplementary material, which is available to authorized users.
Abstract
Background
Glabridin (GLA), a major component extracted from licorice root, has anti-inflammatory and antioxidant activities, but few studies report its mechanism of inhibition of angiogenesis. This study was an extension of our previous work, which demonstrated that GLA suppressed angiogenesis in human breast cancer (MDA-MB-231 and Hs-578T) cells. Breast cancer is one of the most common malignant diseases in females worldwide, and the major cause of mortality is metastasis that is primarily attributed to angiogenesis. Thus, anti-angiogenesis has become a strategy for the treatment of breast cancer.
Methods
Cell viability of different concentration treatment groups were detected by Cell Counting Kit-8 assay. The expression of several related genes in the Wnt1 signaling pathway in MDA-MB-231 and Hs-578T cells treated with GLA were measured at both the transcription and translation levels using quantitative real-time PCR analyses and western blotting. Immunofluorescence assay analyzed the nuclear translocation of β-catenin. The microRNA-inhibitor was used to knockdown microRNA-148a (miR-148a) expression. Angiogenic potentials of breast cancer cells were analyzed by enzyme-linked immunosorbent assay (ELISA) and tube formation in vitro.
Results
GLA attenuated angiogenesis by the suppression of miR-148a-mediated Wnt/β-catenin signaling pathway in two human breast cancer cell lines (MDA-MB-231 and Hs-578T). GLA also upregulated the expression of miR-148a in a dose-dependent manner, miR-148a, which could directly target Wnt-3′-untranslated regions (UTRs), and decreased the expression of Wnt1, leading to β-catenin accumulation in the membranes from the cytoplasm and nucleus. Downregulation of miR-148a contributed to the reduction of GLA-induced suppression of the Wnt/β-catenin signaling pathway, the angiogenesis and vascular endothelial grow factor (VEGF) secretion.
Conclusions
Our study identified a molecular mechanism of the GLA inhibition of angiogenesis through the Wnt/β-catenin signaling pathway via miR-148a, suggesting that GLA could serve as an adjuvant chemotherapeutic agent for breast cancer.