01.12.2017 | Research article | Ausgabe 1/2017 Open Access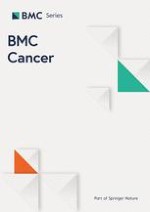 The role of hormonal therapy in patients with relapsed high-grade ovarian carcinoma: a retrospective series of tamoxifen and letrozole
Zeitschrift:
Autoren:

Angela George, Jennifer McLachlan, Nina Tunariu, Chiara Della Pepa, Cristina Migali, Martin Gore, Stan Kaye, Susana Banerjee
Abbreviations
HGOC
high-grade ovarian carcinoma
RECIST
Response Evaluation Criteria in Solid Tumours
Background
Methods
This study was approved by the Royal Marsden Clinical Research Committee, and the need for informed consent was waived, as this was a retrospective study of clinical practice. All women with HGOC treated with tamoxifen or letrozole between June 2007 and June 2012 at the Royal Marsden Hospital, with measurable disease by Response Evaluation Criteria in Solid Tumours (RECIST) 1.1, were identified using electronic patient records. Patients with low-grade tumours were excluded from the case series. The primary endpoint of the study was objective response rate (ORR). Secondary endpoints included clinical benefit rate (CBR), CA125 response and duration of response. Platinum-sensitivity and ER-status were assessed as predictors of treatment response.
Data including baseline patient characteristics, ER- and progesterone-receptor (PR) status, platinum-sensitivity status, hormonal treatments used, CA125 response to treatment, best radiological response to treatment, date of radiological progression and date of death or last follow-up were retrieved from the electronic patient records.
Statistical methods
The best overall response to hormonal treatment (complete response, partial response, stable disease or progressive disease) was defined according to RECIST 1.1 and reviewed by a specialist gynae-oncology radiologist. CBR was defined as the percentage of patients with a response (complete and partial) or stable disease for ≥3 months. CA125 response was defined according to Gynaecologic Cancer Intergroup (GCIG) criteria. Patients alive at the time of evaluation and those with loss of follow-up were censored at last follow-up. Imaging assessment was performed three months after initiating treatment to assess response and three-monthly thereafter unless there were clinical reasons to scan sooner.
Results
A total of 97 patients were included in the study, all of whom were patients who were either considered to have no other chemotherapeutic/trial options, those for whom further chemotherapy was contraindicated due to poor performance status or patient refusal. Baseline characteristics of the patients are summarized in Table
2
. The median number of prior lines of chemotherapy was 3. Forty-three patients were treated with tamoxifen and 54 patients were treated with letrozole. There were 17 patients who received tamoxifen and letrozole (as single agents) during the disease course. For this group of patients, the first hormonal therapy was considered for response analysis. All patients treated with letrozole received a dose of 2.5 mg daily. Of those that were treated with tamoxifen, 36 (83.7%) received 20 mg daily and 7 (16.3%) received 40 mg daily. The choice of tamoxifen or letrozole was at the discretion of the clinician and took into consideration the risks of toxicities. For example, patients with clinically significant osteoporosis were treated with tamoxifen rather than letrozole.
Table 2
Baseline characteristics (
n
= 97)
N (%)

Median age at diagnosis (range)

63 (20–92)

Histological subtype

 High-grade serous

90 (92.7)

 High-grade endometrioid

5 (5.2)

 Clear cell

2 (2.1)

FIGO stage at diagnosis

 I

7 (7.2)

 II

4 (4.1)

 III

73 (75.3)

 IV

13 (13.4)

ER-status

 Positive

50 (51.5)

 Negative

1 (1)

 Unknown

46 (47.4)

PR-status

 Positive

20 (20.1)

 Negative

11 (11.3)

 Unknown

66 (68)

Primary Surgery status

 Complete debulking

37 (38.1)

 Suboptimal debulking (>1 cm residual disease)

44 (45.3)

 No surgery

16 (16.5)

Platinum-sensitivity

 Platinum-sensitive

39 (40)

 Platinum-resistant

58 (60)

Number of lines of prior chemotherapy

 1

18 (18.6)

 2

15 (15.5)

 3

21 (21.6)

 4

17 (17.5)

 5

10 (10.3)

 ≥ 6

16 (16.5)
Efficacy
Radiological and CA125 response to hormonal therapy is summarized in Table
3
. There were no patients with a complete response. In total, 14 patients had a radiological partial response to hormonal therapy, with an ORR of 14.4%. Six patients had a partial response to tamoxifen (ORR 14%) and 8 patients had a partial response to letrozole (ORR 14.8%). 22 patients treated with tamoxifen and 22 patients treated with letrozole achieved stable disease for greater than 3 months, with a CBR of 65.1% in the tamoxifen cohort and 55.6% in the letrozole cohort. There was no significant difference in ORR (
p
= 0.99) or CBR (
p
= 0.14) between the tamoxifen and letrozole cohorts. Percentage change in tumour measurements with hormonal treatment for each patient are demonstrated in Fig.
1
. Amongst the patients that had a response following hormonal therapy, the median duration of response was longer in patients treated with letrozole compared with those treated with tamoxifen (26 vs 11.5 months,
p
= 0.03), but there was no significant difference in the median duration of disease stabilisation between the letrozole and tamoxifen treated patients (9.6 vs 7.2 months respectively,
p
= 0.11).
Table 3
Response to hormonal therapy
| Treatment | PR (%) | SD (%) | PD (%) | ORR (%) | CBR (%) | CA125 response (%) |
| --- | --- | --- | --- | --- | --- | --- |
| | 6 (14) | 22 (51.2) | 15 (34.9) | 6 (14) | 28 (65.1) | 10 (23.3) |
| | 8 (14.8) | 22 (40.7) | 24 (44.4) | 8 (14.8) | 30 (55.6) | 12 (22.2) |
| | 14 (14.4) | 44 (45.4) | 39 (40.2) | 14 (14.4) | 58 (59.8) | 22 (22.7) |
×
In total, 22 patients (22.7%) had a CA125 response; 10 patients (23.3%) in the tamoxifen group, and 12 patients (22.2%) in the letrozole group. Percentage change in CA125 values with hormonal treatment for each patient are demonstrated in Fig.
2
.
×
For those patients in which both radiological status and CA-125 response was evaluable (
n
= 22), responses were concordant. All patients with a CA-125 response had either a RECIST partial response or stable disease.
Predictive markers of response
Of those 14 patients who achieved a partial response, 7 (50%) had tumours that were ER + ve, and in 7 (50%), the ER-status was unknown. Seven patients (50%) had platinum-sensitive disease and 7 (50%) had platinum-resistant disease. ORR did not differ by ER status (positive vs unknown,
p
= 0.12); or platinum sensitivity (
p
= 0.42). The ORR to hormonal therapy for patients with platinum-sensitive disease was 17.9% (7/39) and 12.1% (7/58) for those with platinum-resistant disease. There was no significant difference between the ORR following tamoxifen or letrozole in relation to platinum-sensitivity status (Letrozole: platinum-resistant 13%; platinum-sensitive 17% Tamoxifen: platinum-resistant 11%; platinum-sensitive 17%).
Assessment of response by histological subtype was limited by the small numbers of non–serous histology in this cohort of patients with high grade ovarian cancer. However, of the five patients with high grade endometrioid subtype, three derived a partial response and two had stable disease. Of the two patients with clear cell ovarian carcinoma, one had disease stabilisation and the other disease progression.
Subsequent therapy
There were 17 patients who received both letrozole and tamoxifen sequentially after progression on the first hormonal treatment. Whilst only the first response was considered in the overall statistical analysis, nine patients had prolonged disease stabilisation with the second endocrine agent. The best response for patients whom received letrozole subsequent to tamoxifen (
n
= 17) were as follows: 0 partial response, 9 (53%) stable disease, 6 (35%) progressive disease and 2 (12%) intolerant to therapy. The best response for patients whom received tamoxifen subsequent to letrozole (
n
= 17) were as follows: 2 (12%) partial response, 13 (76%) stable disease, 2 (12%) progressive disease.
At time of censoring, more than half (50, 52%) of the patients had been treated with one or more subsequent lines of systemic treatment, including both chemotherapy and Phase I trial agents. The details of numbers of subsequent lines of treatments are shown in Table
4
.
Table 4
Number of lines of subsequent systemic treatments
| Number of treatments | Tamoxifen patients | Letrozole patients |
| --- | --- | --- |
| | 22 | 25 |
| | 13 | 15 |
| | 6 | 10 |
| | 0 | 4 |
| | 2 | 0 |
Discussion
The CBR reported in this study was almost 60%, suggesting that hormonal therapy provides a valid treatment option in women with recurrent ovarian cancer to maintain disease stability. Recurrent ovarian cancer remains an incurable disease and therefore stabilisation of disease should be valued as an important treatment outcome, particularly in heavily pre-treated patients who have exhausted standard lines of therapy or who wish to delay another line of chemotherapy taking into consideration quality of life. It is important to note that more than half of the patients went on to receive further lines of systemic treatment- in many cases due to stabilisation of symptoms and improvement in performance status. The majority of patients did not have significant toxicities whilst on letrozole or tamoxifen allowing these patients to have the opportunity of a further treatment option with potentially less detrimental impact on their quality of life than perceived with chemotherapy.
There are a number of ongoing trials exploring combinations of hormonal agents with other therapeutic agents in ovarian cancer. For example, a phase II single arm study of letrozole and everolimus, an mTOR inhibitor, in patients with platinum-resistant/refractory ovarian cancer or endometrial cancer is currently recruiting patients (NCT0218850). In addition, a phase II, open-label study of letrozole and ribociclib (CDK4/6 inhibitor) in patients with relapsed ER-positive ovarian cancer and endometrial cancer is underway (NCT02657928).
Conclusions
In conclusion, our results demonstrate that hormonal therapy with either tamoxifen or letrozole is a valid treatment option for patients with recurrent HGOC, and has the potential to maintain disease stability for a prolonged period. There is a strong rationale for this approach and further research in this area should be conducted. More clinical trials are needed in this area, in particular phase III trials of hormonal therapy compared to other systemic agents.
Acknowledgements
The authors would like to thank the National Institute for Health Research (NIHR) Royal Marsden/ICR Biomedical Research Centre for Cancer (BRC) and the Gynaecological Cancer Fund (GCF).
Funding
There are no funding sources for this study.
Availability of data and materials
The datasets used and/or analysed during the current study are available from the corresponding author on reasonable request.
Ethics approval and consent to participate
This retrospective study was approved by the Royal Marsden Clinical Research Committee. Written human subject consent to participate was not required as this was a retrospective non-interventional study.
Consent for publication
Not applicable.
Competing interests
The authors declare that they have no competing interests.
Publisher's Note
Springer Nature remains neutral with regard to jurisdictional claims in published maps and institutional affiliations.
Open Access
This article is distributed under the terms of the Creative Commons Attribution 4.0 International License (
http://​creativecommons.​org/​licenses/​by/​4.​0/​
), which permits unrestricted use, distribution, and reproduction in any medium, provided you give appropriate credit to the original author(s) and the source, provide a link to the Creative Commons license, and indicate if changes were made. The Creative Commons Public Domain Dedication waiver (
http://​creativecommons.​org/​publicdomain/​zero/​1.​0/​
) applies to the data made available in this article, unless otherwise stated.