13.03.2020 | Original Article | Ausgabe 6/2020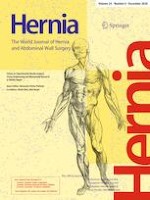 The transversus abdominis plane block reduces the cumulative need of analgesic medication following inguinal hernia repair in TAPP technique: a retrospective single center analysis among 838 patients
Zeitschrift:
Autoren:

C. Paasch, J. Fiebelkorn, N. Berndt, G. De Santo, N. Aljedani, P. Ortiz, U. Gauger, K. Boettge, S. Anders, H. Full, M. W. Strik
Wichtige Hinweise
The original article has been updated: Due to Table 4 update.
Publisher's Note
Springer Nature remains neutral with regard to jurisdictional claims in published maps and institutional affiliations.
Abstract
Purpose
Laparoscopic inguinal hernia repair (IHR) may lead to early postoperative pain. Therefore, opioid and non-opioid analgesic agents are often administered in the post-anesthesia care unit (PACU). To reduce the postoperative cumulative need of analgesic medication, as well as to accelerate the physical recovery time, the transversus abdominis plane (TAP) block has recently been studied. The TAP block is a regional anesthesia technique. Even though there is evidence about the efficacy of the block used in procedure such as an open inguinal hernia repair, the evidence regarding its use for the TAPP (transabdominal preperitoneal) technique remains low. We aim to provide more sufficient evidence regarding this topic.
Methods
A monocentric retrospective observational study investigating the effect of the TAP block prior to primary IHR in TAPP technique was conducted. The data of 838 patients who were operated on using this technique from June 2007 to February 2019 were observed. 72 patients were excluded because of insufficient information regarding their analgesic medication protocol. The patients' data were taken from their files.
Results
The patients in the TAP block group (
n
 = 364) did not differ statistically significantly compared to the control group (
n
 = 402) in terms of gender, BMI and age. Individuals of the TAP block group experienced less postoperative pain in the PACU (
p
 < 0.001) and received less analgesic medication (morphine, oxycodone, piritramide, acetaminophen;
p
 < 0.001).
Conclusion
We assume that the TAP block is a sufficient approach to reduce postoperative pain and analgesic medication administration for IHR in TAPP technique.