01.12.2018 | Research | Ausgabe 1/2018 Open Access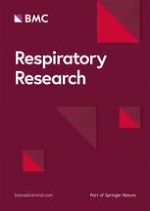 The utility of biomarkers in diagnosis of aspirin exacerbated respiratory disease
Zeitschrift:
Autoren:

Suzy A. A. Comhair, Grazyna Bochenek, Sara Baicker-McKee, Zeneng Wang, Tomasz Stachura, Marek Sanak, Jeffrey P. Hammel, Stanley L. Hazen, Serpil C. Erzurum, Ewa Nizankowska-Mogilnicka
Abstract
Background
Aspirin-exacerbated respiratory disease (AERD) is a distinct eosinophilic phenotype of severe asthma with accompanying chronic rhinosinusitis, nasal polyposis, and hypersensitivity to aspirin. Urinary 3-bromotyrosine (uBrTyr) is a noninvasive marker of eosinophil-catalyzed protein oxidation. The lack of in vitro diagnostic test makes the diagnosis of AERD difficult. We aimed to determine uBrTyr levels in patients with AERD (
n
 = 240) and aspirin-tolerant asthma (ATA) (
n
 = 226) and to assess whether its addition to urinary leukotriene E
4
(uLTE
4
) levels and blood eosinophilia can improve the prediction of AERD diagnosis.
Methods
Clinical data, spirometry and blood eosinophilis were evaluated. UBrTyr and uLTE4 levels were measured in urine by HPLC and ELISA, respectively.
Results
Both groups of asthmatics (AERD, n = 240; ATA, n = 226) had significantly higher uBrTyr, uLTE
4
levels, and blood eosinophils than healthy controls (HC) (
n
 = 71) (
p
 < 0.05). ULTE
4
levels and blood eosinophils were significantly higher in AERD as compared to ATA (
p
 = 0.004,
p
 < 0.0001, respectively). whereas uBrTyr levels were not significantly different between both asthma phenotypes (
p =
0.34). Asthmatics with high levels of uBrTyr (> 0.101 ng/mg Cr), uLTE
4
levels (> 800 pg/mg Cr) and blood eosinophils (> 300 cells/ul) were 7 times more likely to have AERD.. However, uBrTyr did not increase the benefit for predicting AERD when uLTE
4
and blood eosinophils were already taken into account (
p
 = 0.57).
Conclusion
UBrTyr levels are elevated both in AERD and ATA as compared to HC, but they could not differentiate between these asthma phenotypes suggesting a similar eosinophilic activation. The addition of uBrTyr to elevated uLTE4 levels and blood eosinophils did not statistically enhance the prediction of AERD diagnosis.