08.10.2018 | Review Article | Sonderheft 3/2018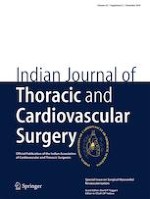 Transmyocardial revascularization (TMR): current status and future directions
Autoren:

Keith B. Allen, Amy Mahoney, Sanjeev Aggarwal, John Russell Davis, Eric Thompson, Alex F. Pak, Jessica Heimes, A. Michael Borkon
Abstract
Purpose
Cardiac surgeons are increasingly faced with a more complex patient who has developed a pattern of diffuse coronary artery disease (CAD), which is refractory to medical, percutaneous, and surgical interventions. This paper will review the clinical science surrounding transmyocardial revascularization (TMR) with an emphasis on the results from randomized controlled trials.
Methods
Randomized controlled trials which evaluated TMR used as sole therapy and when combined with coronary artery bypass grafting were reviewed. Pertinent basic science papers exploring TMR's possible mechanism of action along with future directions, including the synergism between TMR and cell-based therapies were reviewed.
Results
Two laser-based systems have been approved by the United States Food and Drug Administration (FDA) to deliver laser therapy to targeted areas of the left ventricle (LV) that cannot be revascularized using conventional methods: the holmium:yttrium-aluminum-garnet (Ho:YAG) laser system (CryoLife, Inc., Kennesaw, GA) and the carbon dioxide (CO2) Heart Laser System (Novadaq Technologies Inc., (Mississauga, Canada). TMR can be performed either as a stand-alone procedure (sole therapy) or in conjunction with coronary artery bypass graft (CABG) surgery in patients who would be incompletely revascularized by CABG alone. Societal practice guidelines have been established and are supportive of using TMR in the difficult population of patients with diffuse CAD.
Conclusions
Patients with diffuse CAD have increased operative and long-term cardiac risks predicted by incomplete revascularization. The documented operative and long-term benefits associated with sole therapy and adjunctive TMR in randomized trials supports TMR's increased use in this difficult patient population.