01.12.2014 | Ausgabe 4/2014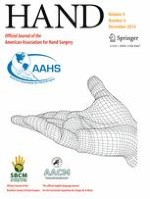 Treatment preferences for trigger digit by members of the American Association for Hand Surgery
Zeitschrift:
Autoren:

Jason S. Pruzansky, Peter Goljan, David P. Lundmark, Eon K. Shin, Sidney M. Jacoby, A. Lee Osterman
Abstract
Background
Trigger digit is a common pathology encountered by hand surgeons, but there is a lack of evidence-based guidelines. We investigated the treatment preferences of hand surgeons and explored whether geographic location, type of residency training, or clinical experience is associated with differences in practice.
Methods
An online survey was distributed via email by the American Association for Hand Surgery to 615 members. The survey consisted of 17 questions related to conservative and operative management of trigger digits.
Results
One hundred thirty-nine unique responses were received (22.6 %). Geographic distribution of respondents encompassed the entire USA and was not associated with variations in practice. Of the respondents, 56.8 % were trained in orthopedic surgery while 37.4 % had plastic surgery training. In regards to duration of practice, 8.6 % were in practice for up to 5 years, 29.5 % for 6–15 years, 33.8 % for 16–25 years, and 28.1 % for more than 25 years. Notably, the great majority of respondents preferred corticosteroid injections for initial treatment. Those who were willing to give three or more injections prior to surgery were more likely to be plastic surgeons in practice for 16 years or more. A large minority of surgeons utilized splinting in their conservative management. Orthopedic surgeons were more likely to perform tenolysis during pulley release and more likely to use monitored anesthesia care.
Conclusions
Variation exists between the treatment algorithms of hand surgeons when managing a trigger digit. Some of these differences may be attributable to the type of training or the duration of clinical practice.