20.06.2016 | Invited Review | Ausgabe 2/2018 Open Access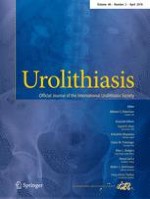 Ureteric stents on extraction strings: a systematic review of literature
Zeitschrift:
Autoren:

Rachel Oliver, Hannah Wells, Olivier Traxer, Thomas Knoll, Omar Aboumarzouk, Chandra S. Biyani, Bhaskar K. Somani, YAU Group
Introduction
Due to paucity in the available literature, we wanted to conduct a systematic review of literature looking at the outcomes of ureteric stents with extraction strings attached to them.
Methods
The objective of this systematic review was to investigate the use, morbidity, tolerability, complications, associated cost, and patient preference of stents with extraction strings attached to them.
Search strategy
The search involved finding relevant studies from MEDLINE, EMBASE, Ovid, the Cochrane Central Register of Controlled Trials, CINAHL, Google Scholar, and individual urological journals between January 1990 and September 2015. Two reviewers (RO and HW) independently identified all studies that fitted the inclusion criteria for this review, and any discrepancy was resolved after adjudication and consensus with the senior author (BKS). The search terms included the following: 'ureteroscopy', 'flexible ureteroscopy', 'renal', 'calculi', 'stone(s)', 'urolithiasis', 'laser', 'stents', 'thread', and 'extraction string'. These terms were combined using Boolean operators (AND, OR) to refine the search.
Inclusion criteria
The inclusion criteria were for studies written in the English language, reporting on the use of stents with extraction strings, where they were either self-removed or removed by the physician in an outpatient setting. Papers dealing with individual case reports and paediatric patients were not included in our review. If more than one paper were available from the same authors/group including the same patient cohort, and the most updated version was included.
Data extraction
The studies fitting the inclusion criteria were analysed for the following: journal of publication, period of review, type of study, country of origin, population demographics (age and sex), adverse events, stent dislodgements, associated pain, and urinary symptoms. The data included were filtered into raw numbers, either directly or as a conversion from a percentage of the original study group.
Results
A total of 11 studies were identified from the literature search, of which eight fitted the inclusion criteria (Fig.
1
). Of these, four articles that were excluded involved one case report [
19
], one comment [
20
], one study that looked at extraction string use in children [
21
], and one paper where an updated article was available from the same authors [
14
].
×
Patient demographics and complications
Eight studies involved 1279 patients, of which 483 (38 %) were patients who had extraction strings for removal, and nearly two-thirds of them had stents, where the extraction string was removed prior to their placement. The mean age was 49 years with a male:female ratio of 9:10 (Table
1
). Other baseline characteristics of the eight articles reviewed can be seen in Table
1
. All stents were inserted under direct vision plus fluoroscopic guidance or with fluoroscopic guidance alone. Across these articles, the size of these indwelling stents was between 4.7 and 7F.
Author

Study type

Journal

Year

Period of review

Country

No. of patients

M:F

Mean age

Comparator

Strings:no strings

Pryor

Prospective cohort

1991

–

USA

73

45:28

–

Pain score at removal, urinary symptoms

44:29

(23–72)

Bockholt

Retrospective cohort

2012

June 2009 –June 2010

USA

181

86:95

45.5

Procedure related events (PREs)

43:138

York

Prospective questionnaire

2013

May –Dec 2011

New Zealand

50

39:11

51 (21–77)

Pain score, anxiety, complication rate

50:0

Kuehaus

Prospective cohort

2013

Nov 2011–May 2012

Austria and Germany

124

86:38

47 (20–79)

Pain score at removal

13a:111

Barnes

Prospective RCT

2014

Oct 2011–May 2013

USA

68a

26:42

49

USSQ, pain score, adverse events

33:38

Althaus

Retrospective notes review

2015

–

USA

512

57:41

54

Dislodgement rates

98:414

Loh-Doyle

Prospective Web-based questionnaire

2015

May 2013–Dec 2013

USA

571

183:388

–

Pain score, removal preferences

223:348

Kim

Prospective RCT

2015

July 2012–Nov 2014

Korea

114

78:36

50

USSQ, VAS, patient preference

58:56

Total

1279

600:679

483:796
Of the included studies, two were randomized, four were prospective, and the remaining two were retrospective in nature. The two randomised controlled trials compared the use of stents with and without extraction strings attached to them.
The total number of patients that had ureteric stents with extraction strings attached was 483 (range 13–223/study). The mean age was similar across the groups (only adult patients were included in the review analysis) with an overall mean age of 49 years consistent with patients commonly undergoing stone treatment. The male:female ratio shows a slight female preponderance.
The complications for patients with ureteric stents with extraction strings are shown in Table
2
. Where available, the results for the comparable groups with ureteric stents without extraction strings are also recorded. The only numeric data for outcomes are in the form of total number of dislodgements and total number of adverse events. 'Events' were defined as emergency department visits, unscheduled clinic visits, and telephone calls. There are broadly similar rates of adverse events between the 'strings' and 'no strings' groups. The articles also looked at pain scores with the stent in situ and upon removal, and the associated urinary symptoms. There seemed to be no overall difference in pain scores or urinary symptoms between patients with and without extraction strings [
15
].
Table 2
Summary of complications across articles in literature review
Overall number of events

Stent dislodgements

Pain score

Urinary symptoms

Strings

No strings

Strings

No strings

Pryor

–

–

–

–

No difference

No difference

Bockholt

16

46

2/43

–

York

–

–

–

–

Low (strings)

Kuehaus

–

–

–

–

No difference

Barnes

13

14

5/33

–

No difference

No difference

Althaus

13

0

13/98

0

Loh-Doyle

–

–

–

–

No difference

Kim

–

0

3/58

0

Total

32 (7.5 %)

60 (8 %)

20/232 (9.9 %)

0
Method of stent removal
Majority of patients who had stents with extraction strings were able to remove their stents at home (Table
3
) [
5
,
13
]. One patient each in two of these studies did not remove their stent at home due to anxiety [
5
,
13
]. Slightly lower rates of self-stent removal were reported by York et al., with 70 % (
n
= 35) finding removal easy, 24 % (
n
= 12) asking a healthcare professional to remove their stent and 6 % (
n
= 3) asking their spouse to do so [
16
].
Table 3
Summary of outcomes related to tolerability across articles in literature review
Dwell time (days)

Pain score on removal (0–10)

Patients able to remove own stent at home

Patients who would have strings again

Strings

No strings

Strings

No strings

Strings only

Pryor

–

–

3.9

5

–

–

Bockholt

–

–

–

–

42 (97.7 %)

–

York

–

–

2

–

35 (70 %)

38 (75 %)

Kuehaus

–

–

–

–

–

–

Barnes

6.3

10.6

2.5

3.1

32 (97 %)

–

Althaus

–

–

–

–

–

–

Loh-Doyle

–

–

3.7

5.14

–

197 (88.2 %)

Kim

6

6.2

2.9

4.2

–

16/16 (100 %)

Average

6.3

10.6

3.0

4.41

88.2 %

81.6 %
Stent dislodgement
None of the patients suffered premature stent dislodgement when there was no extraction strings attached, but nearly 10 % of patients suffered stent dislodgement in the group with strings attached (Table
2
). This unanticipated early stent removal did not seem to adversely affect the overall outcome or patient safety in these studies. Conversely, Barnes et al. reported one case of stent retention in a patient with a stent without strings who was lost to follow up. This was identified 6-month post-insertion and was removed by office cystoscopy [
13
].
Stent dwell time
Overall stent dwell time was lower in patients who had their stents removed via extraction strings. Barnes et al. reported a mean dwell time of 6.3 versus 10.6 days in the strings versus no strings cohorts, respectively (
p
< 0.001) [
13
].
Patient preference of stent removal
York et al. reported 75 % of patients would happily remove their own stent again using extraction strings if the need arose in the future (Table
3
) [
16
]. Similarly, a Californian group found that when patient self-removed their stents, 60 % would choose this option again [
15
]. They also found that the average pain with self-removal was significantly less (
p
< 0.0001) that when removed via formal cystoscopy or by the doctor pulling the string for them. Similarly, when asked which was most important to them regarding stent placement and removal (scale 1–5), patients rated that 'being informed they are having a stent (4.7)' most important, followed by 'method of stent removal (4.6)', 'option of general anaesthesia (3.1)' and 'being shown a video or diagram of stent removal (2.9)' [
15
].
Cost
Potential cost saving was reported by Barnes et al. when utilising stent extraction strings. Although a formal cost analysis was not performed, it was reported that if all patients in the study removed their own stents using extraction strings, it would result in ~$97,000 saved in cystoscopic removal costs ($243/patient). Also, based on an average 177 mile round trip by patients for cystoscopic stent removal and the cost of driving at $0.40–0.90/mile (based on American Automobile Association estimates), savings in out-of-pocket expense of $68–185/patient were estimated if patients were to remove their own stents at home [
13
].
Discussion
Conclusions
Although not universally used following every ureteroscopic procedure, indwelling ureteric stents are commonly inserted at the end of procedures with a view to reducing post-operative morbidity. Their use is often guided by surgeon preference and remains an area of controversy, particularly in groups of patients where there is not a clear-cut indication for routine stent insertion. Until the fields of engineering or pharmacology can provide a safe solution to stent related symptoms, it seems that stent extraction strings can reliably reduce the stent dwell time for patients, thus reducing the duration of morbidity and physical and financial burden to patients. However, this must be balanced against a risk of stent dislodgement and, hence, may not be a good option in all patients.
Compliance with ethical standards
Conflict of interest
The authors declare that there is no conflict of interest.
Ethical standards
Review article, so no ethical approval required.
Open Access
This article is distributed under the terms of the Creative Commons Attribution 4.0 International License (
http://​creativecommons.​org/​licenses/​by/​4.​0/​
), which permits unrestricted use, distribution, and reproduction in any medium, provided you give appropriate credit to the original author(s) and the source, provide a link to the Creative Commons license, and indicate if changes were made.