16.05.2019 | Original Article | Ausgabe 12/2019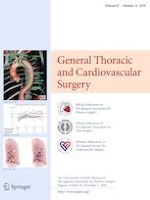 Use of electromagnetic navigation bronchoscopy in virtual-assisted lung mapping: the effect of on-site adjustment
Zeitschrift:
Autoren:

Masaaki Sato, Yoshikazu Shinohara, Masahiro Yanagiya, Takahiro Karasaki, Kentaro Kitano, Kazuhiro Nagayama, Jun Nakajima
Wichtige Hinweise
Electronic supplementary material
A part of the manuscript was presented at the 71th Annual Scientific Meeting of The Japanese Association for Thoracic Surgery.
Publisher's Note
Springer Nature remains neutral with regard to jurisdictional claims in published maps and institutional affiliations.
Abstract
Objective
Conventional virtual-assisted lung mapping (VAL-MAP), also termed multi-spot preoperative bronchoscopic lung marking, necessitates post-mapping computed tomography (CT) to confirm the locations of dye markings. We hypothesized that electromagnetic navigation bronchoscopy (ENB) simplifies VAL-MAP by omitting post-mapping CT.
Methods
Under general anesthesia, real-time navigation bronchoscopy was conducted using ENB to reach a site as close to the planned location as possible, and indigo carmine was injected. Initially, surgery was then performed (no-adjustment group; 5 lesions of 3 patients). Later, on-site adjustment was added before surgery (adjustment group; 4 lesions of 4 patients), in which the locational information of ENB was transferred to a radiology workstation to construct an adjusted three-dimensional image. The accuracy of each predicted marking location was graded based on intraoperative observation. After the analysis, 19 patients with 21 lesions underwent ENB VAL-MAP with on-site adjustment (practice set) to evaluate the surgical outcomes.
Results
The accuracy of the predicted marking location was significantly higher in the adjustment than no-adjustment group (4.7 ± 0.7 vs. 3.4 ± 1.2, respectively;
P
 = 0.01), especially among the markings for which the bronchoscope did not reach the planned location (4.5 ± 0.8 vs. 2.6 ± 0.5, respectively;
P
 = 0.004). In the practice set, the lung map quality was satisfactory and the resection outcome was successful with a sufficient macroscopic resection margin in 19/21 lesions (90.5%).
Conclusion
The ENB VAL-MAP quality was improved by adding on-site adjustment, achieving clinical outcomes similar to conventional VAL-MAP. The logistic challenge of post-mapping CT in conventional VAL-MAP can be partially overcome by ENB VAL-MAP with on-site adjustment.