01.12.2012 | Research | Ausgabe 1/2012 Open Access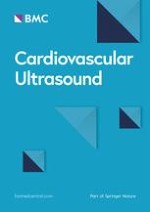 Visualization of the intracavitary blood flow in systemic ventricles of Fontan patients by contrast echocardiography using particle image velocimetry
Zeitschrift:
Autoren:

Konstantinos Lampropoulos, Werner Budts, Alexander Van de Bruaene, Els Troost, Joost P van Melle
Wichtige Hinweise
Electronic supplementary material
The online version of this article (doi:
10.​1186/​1476-7120-10-5
) contains supplementary material, which is available to authorized users.
Competing interests
The authors declare that they have no competing interests.
Authors' contributions
WB, JP van M, ET, in the data collection. KL, AVan de B, in the laboratory analysis, and in statistical analysis. KL, JP van M, WB, in the interpretation of data and manuscript preparation. All authors read and approved the final Manuscript.
Abstract
Background
Flow patterns in univentricular hearts may have clinical value. Therefore, it is our objective to asses and characterize vortex flow patterns with Fontan circulation in comparison with healthy controls.
Methods
Twenty-three patients (8 Fontan and 15 normal patients) underwent echocardiography with intravenous contrast agent (Sonovue®) administration. Dedicated software was used to perform particle image velocimetry (PIV) and to visualize intracavitary flow in the systemic ventricles of the patients. Vortex parameters including vortex depth, length, width, and sphericity index were measured. Vortex pulsatility parameters including relative strength, vortex relative strength, and vortex pulsation correlation were also measured.
Results
The data from this study show that it is feasible to perform particle velocimetry in Fontan patients. Vortex length (VL) was significantly lower (0.51 ± 0.09 vs 0.65 ± 0.12,
P
= 0.010) and vortex width (VW) (0.32 ± 0.06 vs 0.27 ± 0.04,
p
= 0.014), vortex pulsation correlation (VPC) (0.26 ± 0.25 vs -0.22 ± 0.87,
p
= 0.05) were significantly higher in Fontan patients. Sphericity index (SI) (1.66 ± 0.48 vs 2.42 ± 0.62,
p
= 0.005), relative strength (RS) (0.77 ± 0.33 vs 1.90 ± 0.47,
p
= 0.0001), vortex relative strength (VRS) (0.18 ± 0.13 vs 0.43 ± 0.14,
p
= 0.0001) were significantly lower in the Fontan patients group.
Conclusions
PIV using contrast echocardiography is feasible in Fontan patients. Fontan patients had aberrant flow patterns as compared to normal hearts in terms of position, shape and sphericity of the main vortices. The vortex from the Fontan group was consistently shorter, wider and rounder than in controls. Whether vortex characteristics are related with clinical outcome is subject to further investigation.