24.10.2017 | Evidence-Based Current Surgical Practice | Ausgabe 1/2018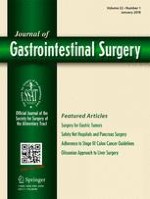 What Is "Enhanced Recovery," and How Can I Do It?
Zeitschrift:
Autoren:

Bradford J. Kim, Thomas A. Aloia
Wichtige Hinweise
Disclosure Information
Authors: Thomas A. Aloia, M.D. has nothing to disclose. Bradford J. Kim, M.D., M.H.S. has nothing to disclose. Editors-in-Chief: Richard A. Hodin, M.D., Timothy M. Pawlik, M.D., MPH, PhD has nothing to disclose. CME Overseers: Arbiter: Timothy M. Pawlik, M.D., MPH, PhD has nothing to disclose; Vice-Arbiter: Melanie Morris, M.D. has nothing to disclose; Question Reviewers: Michael Anthony Edwards, M.D. has nothing to disclose; F. Andrew Morfesis, M.D. has nothing to disclose.
Learning Objectives
1. Define enhanced recovery in surgery
2. Understand all goals of enhanced recovery
3. Discuss several key components of enhanced recovery
4. Understand the team-based approach and buy in required to successfully execute enhanced recovery
Questions:
1. What are the best parameters to measure effective goal-directed fluid therapy (GDFT)?
a. Heart rate
b. Urine output
c. Stroke volume and corrected flow time
d. Blood pressure
2. Which of the following statements are true about narcotics in cancer patients?
a. Patients with tumors expressing polymorphism of the mu-opioid receptor (MOR) will have better survival
b. Opioids can activate vascular endothelial growth factors (VEGF)
c. Opioids should be administered as much as possible to promote enhanced recovery
d. NSAIDs should be avoided in the cancer patient because of their effects on recurrence
3. When compared to traditional pathways, outcomes of enhanced recovery include which of the following?
a. Increased length of stay but decreased costs
b. Improved patient-reported functional outcomes
c. Increased use of narcotics
d. Similar rates of morbidity
4. Select the most critical component of enhanced recovery
a. Bowel regimen
b. Aggressive fluid resuscitation
c. Copious narcotic use to control pain
d. Patient education and engagement
e. Early feeding
5. How long antibiotics should be continued in the perioperative period for antimicrobial prophylaxis?
a. POD 1
b. POD 2
c. POD 5 (if still in the hospital)
d. Until hospital discharge
6. How early can intravenous fluid be discontinued?
a. After 600 mL of clear liquids are tolerated
b. After full liquid diet is tolerated
c. After regular diet is tolerated
d. After passing of flatus
7. For major HPB surgery, when should anticoagulant thromboprophylaxis be started?
a. POD 0/1
b. POD 2/3
c. When INR is normal
d. Never
8. When should the urinary catheter be removed after major gastrointestinal surgery?
a. It should never be placed for gastrointestinal surgery
b. Before extubation
c. After ambulation
d. After tolerating regular diet
Abstract
Background
Enhanced recovery (ER) and fast-track protocols were initially implemented in the perioperative management of the surgical patient over 20 years ago. These standardized protocols are now broadly implemented across most surgical specialties for its many benefits. ER is well known for its positive effects on decreasing length of stay and complications. However, patient-centric outcomes for adequate pain control, functional recovery, costs, and overall patient experience are less considered.
How I Do It
A successful ER foundation stands on the pillars of several perioperative care principles: early feeding, early ambulation, goal-directed fluid therapy, and opiate-sparing analgesia. Moreover, it requires a multi-disciplinary team buy-in (including patient and family) that must also be thoughtfully executed. The following is a review of key elements within successful evidence-based ER protocols and relevant concepts to consider when starting a successful enhanced recovery program.