01.12.2018 | Research | Ausgabe 1/2018 Open Access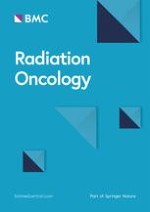 Worth a local treatment? – Analysis of modern radiotherapy concepts for oligometastatic prostate cancer
Zeitschrift:
Autoren:

M. Oertel, S. Scobioala, K. Kroeger, A. Baehr, L. Stegger, U. Haverkamp, M. Schäfers, H.-T. Eich
Wichtige Hinweise
Michael Oertel and S. Scobioala contributed equally to this work.
Abstract
Background
Prostate cancer (PCA) is the most-prevalent non-skin cancer in men worldwide. Nevertheless, the treatment of oligometastatic, especially lymph-node (ln) recurrent, PCA remains elusive. The aim of our study was to provide insights in radiotherapy (RT)-treatment of recurrent PCA exhibiting ln- or osseous (oss)-oligometastases.
Methods
Between April 2012 and April 2017, 27 oligometastatic PCA patients (19 ln and 8 single oss) were treated with RT at our institution.
Results
The metastasis-free survival (MFS) was 24.8 m (22.0–36.0 m) and 25.4 m (23.9–28.1 m) for the ln- and oss-subgroup resulting in 1-year MFS of 75.4 and 100% and 2-year MFS of 58.7 and 83.3% for ln- and oss-metastatic patients, respectively. Of notice, none of the recurrences for ln-patients was in the RT-field, constituting a local control of 100%.
Within the ln-group, pre-RT median-PSA was 2.6 ng/ml, median post-RT PSA was 0.3 ng/ml, which was significant (
p
 = 0.003). Median biochemical-free survival (bfS) was 12.2 m. PCA that was initially confined to the prostate had a better bfS (
p
 < 0.001) and MFS (
p
 = 0.013). The oss-group had a median PSA of 4.9 ng/ml pre-treatment which dropped to a median value of 0.14 ng/ml (
p
 = 0.004).
Toxicities were moderate, with only 1 case of III° toxicity. There were no deaths in the ln-group, thus overall survial was 100% here.
Conclusion
Our study points out the feasibility of RT as a treatment option in recurrent PCA and demonstrates an excellent local control with a low-toxicity profile.