18.04.2017 | Original Article | Ausgabe 6/2017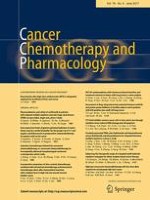 A prospective comparison of intra-arterial chemotherapy combined with intravesical chemotherapy and intravesical chemotherapy alone after transurethral resection with a thulium laser in high-risk non-muscle invasive bladder cancer
Zeitschrift:
Autoren:

Feng Sun, Ruizhe Zhao, Yiyong Zhu, Di Cui, Xiaohai Wang, Bangmin Han, Shengjie Liang, Haitao Liu, Xiaowen Sun, Fujun Zhao, Dongliang Xu, Shujie Xia
Wichtige Hinweise
F. Sun and R. Zhao contributed equally to this article.
Abstract
Objective To compare intra-arterial chemotherapy combined with intravesical chemotherapy with intravesical chemotherapy alone in the treatment of high-risk non-muscle invasive bladder cancer (HRBC) after thulium laser resection of a bladder tumor (TmLRBT).
Materials and methods
From January 2009 to December 2013, 283 patients with HRBC were randomly assigned to the combined group (group A,
n
= 141) or intravesical chemotherapy–alone group (group B,
n
= 142) after TmLRBT. Intra-arterial chemotherapy was administered after initial TmLRBT, with 3 courses at 4-week intervals. Each course consisted of cisplatin (50 mg/m
2
) and epirubicin (30 mg/m
2
). Intravesical chemotherapy was administered in both groups, including an immediate 50 mg of epirubicin instillation after TmLRBT and weekly maintenance for 8 weeks, followed by monthly maintenance for 1 year.
Results
The recurrence rate was 29.1% (41/141) in group A and 42.9% (61/142) in group B, with a significant difference (
p
= 0.01). The progression rate was 15.6% (22/141) in group A and 25.3% (36/142) in group B, with a significant difference (
p
= 0.039). Patients with concomitant carcinoma in situ (CIS) also had a lower recurrence rate and progression rate in group A compared to those in group B (
p
= 0.006 and
p
= 0.03, respectively). On univariate and multivariate logistic regression analyses, patients with low-grade histology had a higher reccurrence-free rate. Multivariate COX analysis of tumor-related factors suggested that concomitant CIS was the only significant prognostic factor associated with poorer recurrence-free survival and progression-free survival.
Conclusions
Intra-arterial chemotherapy combined with intravesical chemotherapy could reduce the risk of recurrence and progression compared to intravesical chemotherapy alone in HRBC.