29.04.2019 | Original Article | Ausgabe 4/2019 Open Access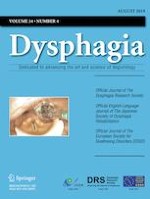 An Investigation of Factors Related to Food Intake Ability and Swallowing Difficulty After Surgery for Thoracic Esophageal Cancer
Zeitschrift:
Autoren:

Taichi Mafune, Shinya Mikami, Takehito Otsubo, Osamu Saji, Tsunehisa Matsushita, Takeharu Enomoto, Futaba Maki, Shinobu Tochimoto
Wichtige Hinweise
Publisher's Note
Springer Nature remains neutral with regard to jurisdictional claims in published maps and institutional affiliations.
Abstract
Swallowing difficulty is among the major complications that can occur after surgery for thoracic esophageal cancer. Recurrent laryngeal nerve paralysis (RLNP) has been considered the most significant cause of a postoperative swallowing difficulty, but association between the two has not been adequately explained. We investigated the relation between postoperative RLNP and swallowing difficulty by means of video fluoroscopy. Our study included 32 patients who underwent subtotal esophagectomy for thoracic esophageal cancer at St. Marianna University School of Medicine between April 2014 and March 2017. We evaluated patients' age and sex, disease stage, preoperative presence of a swallowing difficulty, nutritional status, extent and duration of surgery, blood loss volume, and postoperative presence of RLNP and/or hoarseness. Patients were divided into two groups according to whether oral food intake was possible when video fluoroscopy was performed on postoperative day (POD) 7, and we analyzed the associated factors. Postoperative RLNP occurred in 21 patients (65.6%); hoarseness occurred in 19 (59.4%). Eleven patients (34.4%) suffered swallowing difficulty that prevented food intake. No significant association was found between postoperative swallowing difficulty and postoperative RLNP or hoarseness, but a significant relation was found between the prognostic nutritional index and intraoperative lymph node dissection. Multivariable analysis revealed a significant relation between postoperative swallowing difficulty and only one factor: cervical lymph node dissection (
P
= 0.0075). There appears to be no relation between RLNP pursuant to esophageal cancer surgery and swallowing difficulty that prevents oral food intake.