01.11.2010 | Special Article | Ausgabe 11/2010 Open Access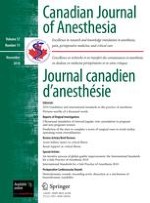 An iterative process of global quality improvement: the International Standards for a Safe Practice of Anesthesia 2010
Autoren:

FANZCA Alan F. Merry, PhD Jeffrey B. Cooper, MMed Olaitan Soyannwo, FRCA Iain H. Wilson, MD John H. Eichhorn
Wichtige Hinweise
A.F. Merry is Chair of the Quality and Safety Committee and I.H. Wilson is Chair of the Publications Committee of the World Federation of Societies of Anaesthesiologists.
Abstract
Purpose
To enhance patient safety through contemporaneous and comprehensive standards for a safe practice of anesthesia that augment, enhance, and support similar standards already published by various countries and that provide a resource for countries that have yet to formulate such standards.
Standards development
The Safe Anesthesia Working Group of the World Health Organization's "Safe Surgery Saves Lives" global initiative updated the
1992 International Standards for the Safe Practice of Anaesthesia
(Standards) through an iterative process of literature review, consultation, debate, drafting, and refinement. These Standards address, in detail, the organization, support, practices, and infrastructure for anesthesia care. The Standards are grounded in the fundamental principle of safety in anesthesia, i.e., the continuous presence of an appropriately trained, vigilant anesthesia professional. In effect, the use of pulse oximetry during anesthesia is now considered mandatory, with acknowledgement that compromise may be unavoidable in emergencies. At the World Congress of Anaesthesiologists in 2008, drafts were presented for comment, further refinements were made, and the Revised Standards were adopted by the World Federation of Societies of Anaesthesiologists (WFSA). These Revised Standards were posted on the WFSA website for further feedback, and minor revisions followed.
The International Standards for a Safe Practice of Anesthesia 2010
were endorsed by the Executive Committee of the WFSA in March 2010. Ongoing periodic revision is planned.
Conclusion
While they are universally applicable, the 2010 Standards primarily target lesser-resourced areas. They are designed particularly for regions that have yet to formulate or adopt their own standards so as to promote optimum patient outcomes in every anesthetizing location in the world.