06.04.2018 | Arzneimitteltherapie | Ausgabe 2/2018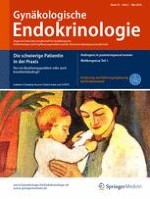 Androgens in postmenopausal women
Zeitschrift:
Autor:

Prof. Susan R. Davis
Wichtige Hinweise
Redaktion
M. Birkhäuser, Basel
B. Imthurn, Zürich
A. O. Mueck, Tübingen
O. Ortmann, Regensburg
Abstract
Endogenous androgen production is essential for women's reproductive function and nonreproductive health. The primary sources of androgens are the ovaries and the adrenal glands. The amount of androgen produced by these sources varies across a woman's life span. It is well documented that circulating androgen levels decline with age from the middle of the fourth decade of life. This decline appears to affect reproductive capacity and impacts nonreproductive health. This review summarizes what is known about androgen physiology in women, the impact of the age-related decline, and the potential benefits and risks of androgen therapy.