28.10.2017 | Original Paper | Ausgabe 3/2018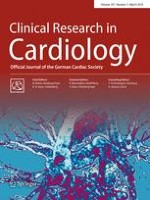 Association between hypo- and hyperkalemia and outcome in acute heart failure patients: the role of medications
Zeitschrift:
Autoren:

Matthieu Legrand, Pierre-Olivier Ludes, Ziad Massy, Patrick Rossignol, Jiri Parenica, Jin-Joo Park, Shiro Ishihara, Khalid F. AlHabib, Aldo Maggioni, Òscar Miró, Naoki Sato, Alain Cohen-Solal, Enrique Fairman, Johan Lassus, Veli-Pekka Harjola, Christian Mueller, Franck W. Peacock, Dong-Ju Choi, Patrick Plaisance, Jindřich Spinar, Mikhail Kosiborod, Alexandre Mebazaa, Etienne Gayat, GREAT (Global Research on Acute Conditions Team) Network and INI-CRCT (Investigation Network Initiative-Cardiovascular and Renal Clinical Trialists) network
Wichtige Hinweise
Electronic supplementary material
The online version of this article (doi:
10.​1007/​s00392-017-1173-3
) contains supplementary material, which is available to authorized users.
Miró Òscar: Member of the ICA-SEMES Research Group, Spain.
Mebazaa Alexandre and Gayat Etienne these authors contributed equally to the work.
Abstract
Background
The interaction between chronic medications on admission and the association between serum potassium level and outcome in patients with acute heart failure (AHF) are unknown.
Methods
Observational intercontinental study of patients admitted with AHF. 15954 patients were included from 12 cohorts in 4 continents. Main outcome was 90-day mortality. Clinical presentation (medication use, hemodynamics, comorbidities), demographic, echocardiographic, and biochemical data on admission were recorded prospectively in each cohort, with prospective adjudication of outcomes.
Results
Positive and negative linear relationships between 90-day mortality and sK+ above 4.5 mmol/L (hyperkalemia) and below 3.5 mmol/L (hypo-kalemia) were observed. Hazard ratio for death was 1.46 [1.34–1.58] for hyperkalemia and 1.22 [1.06–1.40] for hypokalemia. In a fully adjusted model, only hyperkalemia remained associated with mortality (HR 1.03 [1.02–1.04] for each 0.1 mmol/l change of sK+ above 4.5 mmol/L). Interaction tests revealed that the association between hyperkalemia and outcome was significantly affected by chronic medications. The association between hyperkalemia and mortality was absent for patients treated with beta blockers and in those with preserved renal function.
Conclusions
In patients with AHF, sK+ > 4.5 mmol/L appears to be associated with 90-day mortality. B-blockers have potentially a protective effect in the setting of hyperkalemia.