01.12.2017 | Regular article | Ausgabe 1/2017 Open Access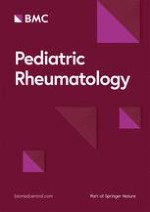 BK viruria and viremia in children with systemic lupus erythematosus
Zeitschrift:
Autoren:

Nirupama Gupta, Cuong Q. Nguyen, Renee F. Modica, Melissa E. Elder, Eduardo H. Garin
Abstract
Background
BK virus (BKV) is a ubiquitous polyoma virus that lies dormant in the genitourinary tract once acquired in early childhood. In states of cellular immunodeficiency, the virus can reactivate to cause hemorrhagic cystitis and nephritis. Children with systemic lupus erythematosus (SLE) have an increased risk of developing infectious complications secondary to their immunocompromised state from the administration of several immuno-modulatory drugs. Currently, there are no data regarding the prevalence of BK viruria or viremia in children with SLE.
Methods
We conducted a prospective cohort study involving children with SLE of 18 years and younger. We obtained urine and blood samples at baseline and every 3 months up to 1 year for BK virus detection by real-time, quantitative polymerase chain reaction analysis. A comprehensive review of demographic information, clinical characteristics and medication history was also obtained.
Results
Thirty-two pediatric patients (26 females and 6 males) with SLE were enrolled. Median age at the time of SLE diagnosis and enrollment into study was 13.6 years and 16.0 years old, respectively. The prevalence at enrollment was 3.1% (1/32) for BK viruria and 6.2% (2/32) for BK viremia. During the study period, 3 patients had viruria, 5 had viremia and 4 had both viruria and viremia. Of the 12 patients with BKV reactivation, only one was positive for microscopic hematuria, all others were asymptomatic. A total of nine of 97(9.2%) urine samples and 10 of 96(10.4%) blood samples were positive for BK virus. The most commonly utilized biologics in this cohort group were Rituximab (90.6%), Abatacept (12.5%), and Belimumab (9.3%). The type of medication exposure and clinical characteristics did not statistically differ between the groups that did or did not have BK viruria and/or viremia.
Conclusions
Our study suggests that pediatric patients with SLE have BK viremia and/or viruria at a higher rate than the general healthy population, although the significance of the reactivation and viral level is unclear. The influence of immune-modulatory drugs on BKV reactivation is still uncertain. To understand the interplay amongst BK virus, immunosuppression and dysregulated immune system in children with SLE, ongoing research in a larger population is still warranted, which may help establish proper surveillance, diagnosis and treatment for BKV infection.