01.12.2015 | Research article | Ausgabe 1/2015 Open Access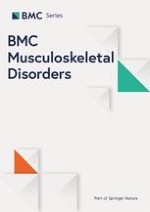 Bone mineral density after implantation of a femoral neck hip prosthesis – a prospective 5 year follow-up
Zeitschrift:
Autoren:

Wolfram Steens, Friedrich Boettner, Rainer Bader, Ralf Skripitz, Alberto Schneeberger
Wichtige Hinweise
Competing interests
The authors declare that they have no competing interests.
Authors' contributions
WS: study conception, writing of manuscript, final analysis and interpretation of data, FB: drafting and critical revising of manuscript, RB: acquisition of data, blinded analysis and interpretation of data. RS: acquisition of data, AS: conception and study design, drafting of manuscript, approval of statistics. All authors read and approved the final manuscript.
Abstract
Background
Bone resorption in the proximal femur due to stress shielding has been observed in a number of conventional cementless implants used in total hip arthroplasty. Short femoral-neck implants are claiming less interference with the biomechanics of the proximal femur. The goal of this study was to prospectively investigate the in vivo changes of bone-mineral density as a parameter of bone remodeling around a short, femoral neck prosthesis over the first 5 years following implantation. The secondary goal was to report on its clinical outcome.
Methods
We are reporting on the changes of bone mineral density of the proximal femur and the clinical outcome up to five years after implantation of a short femoral neck prosthesis. Bone mineral density was determined using dual energy x-ray absorptiometry, performed 10 days, three, 12 and 60 months after surgery. 20 patients with a mean age of 47 years (range 17 to 65) were clinically assessed using the Harris Hip Score. The WOMAC was used as a patient-relevant outcome-measure.
Results
In contrast to conventional implants DEXA-scans overall revealed a slight increase of bone mineral density in the proximal femur in the 12 months following the implantation. The Harris Hip Score improved from an average preoperative score of 46 to a postoperative score at 12 months of 91 points and 95 points at 60 months, the global WOMAC index from 5.3 preoperatively to 0.8 at 12 months and 0.6 at 60 months postoperatively.
Conclusion
At 60 months after implantation of a short femoral neck prosthesis, all regions except one (region of interest #5) showed no significant changes in BMD compared to baseline measurements at 10 days which is less to the changes in bone mineral density seen in conventional implants.