01.12.2017 | Research article | Ausgabe 1/2017 Open Access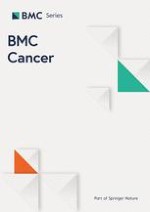 Calretinin as a blood-based biomarker for mesothelioma
Zeitschrift:
Autoren:

Georg Johnen, Katarzyna Gawrych, Irina Raiko, Swaantje Casjens, Beate Pesch, Daniel G. Weber, Dirk Taeger, Martin Lehnert, Jens Kollmeier, Torsten Bauer, Arthur W. Musk, Bruce W. S. Robinson, Thomas Brüning, Jenette Creaney
Wichtige Hinweise
Electronic supplementary material
The online version of this article (doi:
10.​1186/​s12885-017-3375-5
) contains supplementary material, which is available to authorized users.
Abbreviations
ROC
Receiver Operating Characteristic
SNPs
Single Nucleotide Polymorphisms
Background
Malignant mesothelioma (MM) is a highly aggressive tumor of the serous membranes with an unfavorable prognosis. Clinical symptoms are often nonspecific and in most cases the tumor is detected at an advanced stage. Early detection, preferable with noninvasive or minimally-invasive methods, could improve therapeutic approaches and outcomes.
Methods
Results
Discussion
Calretinin is one of the best immunohistochemical markers for the diagnosis of MM [
5
,
14
,
15
]. This prompted us to develop an assay that is independent of the availability of tissue samples and can be applied to body fluids to provide a minimally-invasive method for the detection of MM. In the current study, we have verified our initial findings [
9
] that calretinin is a robust blood-based biomarker significantly elevated in MM. However, the detection of sarcomatoid MM is less efficient.
MM subtypes
Sarcomatoid MM is particularly difficult to diagnose; a blood-based biomarker elevated in MM cases of sarcomatoid histology would be clinically valuable. The Australian mesothelioma registry published that of 575 MM cases 46.8% were epithelioid, 12.2% sarcomatoid (including desmoplastic), 12.2% biphasic, and 28.3% not otherwise specified [
4
]. According to an analysis of the German mesothelioma registry based on more than 1600 cases, the distribution of histological subtypes in Germany consisted of 29.3% epithelioid, 9.4% sarcomatoid, and 61.3% biphasic MM [
29
]. Our previous study may have held some unforeseen bias as there were only 2.4% sarcomatoid cases. Results presented here, which included 28 (33.7%) sarcomatoid cases, clearly demonstrate that the calretinin assay basically does not preferentially detect sarcomatoid MM in serum. This is interesting because calretinin showed a good performance in biphasic MM and its antibody is known to detect sarcomatoid MM – including sarcomatoid areas in biphasic MM – in immunohistochemistry [
11
,
14
,
15
]. A possible explanation would be that purely sarcomatoid MM express but do not release calretinin into the bloodstream. In comparison, serum concentrations of mesothelin were somewhat, but not significantly, decreased in sarcomatoid cases and the assay did not discriminate between sarcomatoid and biphasic MM subtypes as calretinin did.
Performance of calretinin and mesothelin to detect MM
With the exception of rare sarcomatoid cases, calretinin showed a good performance to detect MM. A slightly better performance was implicated by the parametric ROC curves, demonstrating the possible benefit of this method. A major goal of our development of markers is the future application in the screening of high-risk populations, e.g., former asbestos workers. Besides being able to detect early stages of cancer, a very high specificity is an important requirement for markers in order to avoid false-positive results that could cause unnecessary psychological burden for the participants of the screening program [
30
]. We therefore calculated the sensitivity of the markers for different cutoffs conditional on a specificity of at least 95%. The performance of calretinin was highly comparable to the ´gold standard´ mesothelin. When a FPR of 3% and 5% was set, calretinin showed a sensitivity of 67% and 71%, and mesothelin a sensitivity of 66% and 69%, respectively. Even when a stringent FPR of 1% was assumed, 52% and 61% of cases were detected by calretinin and mesothelin, respectively. This would render calretinin and mesothelin promising candidates for a marker panel to diagnose MM. A panel is likely to be necessary to reach sufficient sensitivity in early stages of MM. Whereas markers evaluated in case-control studies generally show higher levels because the samples are mainly derived from manifest cases that are frequently at later stages, it is expected that most marker levels will be significantly lower in patients that not yet show clinical symptoms and exhibit a small tumor mass. This has been indicated for mesothelin in a longitudinal study [
19
]. The loss in sensitivity is dependent upon the time between marker determination and occurrence of symptoms. A good sensitivity of markers to detect cancer within the last 12 months prior to diagnosis has been demonstrated for glycodelin and other markers in a longitudinal study based on a large trial of ovarian cancer screening [
31
].
Benefit of marker combinations and other new markers
Both markers showed a good correlation. Despite of this overlap, a combination of mesothelin and calretinin improved the performance compared to mesothelin alone. Thus, calretinin appears to be a promising candidate to increase the sensitivity in a marker panel, even at high specificity. Whether other models than the simple "and" and "or" combinations we used might further improve the performance, will be the topic of a separate publication. Using logistic regression models, we have recently demonstrated that a combination of mesothelin and the microRNA miR-103a-3p in blood as well as the combination of mesothelin and hyaluronic acid in pleural effusion were able to improve the diagnostic accuracy of the assays [
22
,
32
]. Combinations of markers from different molecular levels, e.g. proteins, methylated DNA, and microRNA as shown by Santarelli et al., appear to be a promising approach [
33
]. Recently, Bononi et al. discovered new circulating microRNAs that were upregulated in MM cases compared to asbestos-exposed controls; for example, miR-197-3p showed an AUC of 0.76 in the ROC analysis [
34
]. Another interesting candidate is the hyperacetylated isoform of the protein HMGB1, determined by mass spectrometry, reaching a maximum AUC of 1.00 when comparing serum levels of MM patients with asbestos-exposed individuals [
35
], while for the gene product TXN (thioredoxin) AUCs of 0.82 and 0.72 were reported by Maeda et al. and Demir et al., respectively [
36
,
37
]. For the protein PAEP (glycodelin), originally a marker for ovarian cancer, an AUC of 0.86 was determined by Schneider et al. [
38
]. Regarding the detection in prediagnostic serum samples, transcript variants of the protein ENOX2 give hope that a detection of MM before onset of clinical symptoms may be feasible [
39
]. The new markers are promising candidates to be tested in combination with mesothelin, calretinin, or other markers. However, once verified with more cases and controls, they have to be validated in studies with longitudinal design, to finally judge their capability for early detection of MM. In addition, for some of the markers, simpler and more affordable assay formats have to be developed.
Factors possibly influencing the marker concentration
Limitations of the study
A general limitation is the case-control design of this study on the performance of biomarkers that are intended to detect MM prior to a clinical diagnosis, which tends to overestimate the sensitivity compared to a prospective design [
30
]. Calretinin and other markers still have to be validated in prospective cohort studies. Another limitation is the rareness of the disease so that we had to recruit archived samples. However, the biobank allowed us to include a rather large number of samples, here of male subjects.
Conclusions
We showed that calretinin is robust and has a similar good performance to detect MM (except the sarcomatoid subtype) as mesothelin. Mesothelin is currently considered to be the best available blood-based marker for MM and therefore served as the 'gold standard' in our analysis. However, it is unlikely that a single biomarker will reach a sufficiently high sensitivity to allow the early detection of all MM. A panel of markers may provide the necessary increase in sensitivity, even at high specificity, as the combination of calretinin and mesothelin has indicated. This verification of calretinin provides the foundation for the next step, the validation of a specific marker panel, e.g. the combination of calretinin with mesothelin and/or other markers, in a prospective cohort study in order to prove that early detection of MM is possible. That would be a major step toward the application of biomarkers in medical surveillance programs of workers with former exposure to asbestos.
Acknowledgements
We thank Judith Delbanco, Evelyn Heinze, Monika Kobek, Sandra Zilch-Schöneweis, Ulrike Gross, Jens Schreiber, and Claudia Lechtenfeld of the MoMar study group, as well as the staff, doctors, and patients of the participating clinics for their support and continuous commitment. We are grateful to Eva Zahradnik, Ulla Meurer, Hanne Dare, Yvonne Demelker, Patricia Pflugmacher, and Justine Leon for technical assistance. We acknowledge support by the Open Access Publication Funds of the Ruhr-University Bochum.
Availability of data and materials
The dataset supporting the conclusions of this article is included as an additional file (Additional file
2
: Table S1).
Authors' contributions
GJ conceived of the study, participated in its design and coordination, and drafted the manuscript. KG performed statistical analyses and helped to draft the manuscript. IR carried out the immunoassays and initial analyses and helped to draft the manuscript. SC performed the statistical analyses. BP participated in design and coordination, and helped to draft the manuscript. DGW participated in the design and helped to draft the manuscript. DT participated in design, statistical evaluation, and helped to draft the manuscript. ML participated in recruitment and coordination. JK and AWM participated in recruitment, data collection, and helped to draft the manuscript, BWSR participated in study design and helped to draft the manuscript, TBa and TBr participated in the study design and coordination. JC participated in the design and coordination of the study and to draft the manuscript. All authors read and approved the final manuscript.
Competing interests
The authors declare that they have no competing interests.
Consent for publication
Not applicable.
Ethics approval and consent to participate
All cases and all controls in Australia as well as Germany gave written informed consent. The study was approved by the ethics committee of the Ruhr-University Bochum (reference number 3217–08) and by the Sir Charles Gairdner Hospital Human Research Ethics Committee (HREC) (reference number 2004–147).
Publisher's Note
Springer Nature remains neutral with regard to jurisdictional claims in published maps and institutional affiliations.
Open Access
This article is distributed under the terms of the Creative Commons Attribution 4.0 International License (
http://​creativecommons.​org/​licenses/​by/​4.​0/​
), which permits unrestricted use, distribution, and reproduction in any medium, provided you give appropriate credit to the original author(s) and the source, provide a link to the Creative Commons license, and indicate if changes were made. The Creative Commons Public Domain Dedication waiver (
http://​creativecommons.​org/​publicdomain/​zero/​1.​0/​
) applies to the data made available in this article, unless otherwise stated.