01.12.2014 | REVIEWS | Ausgabe 3/2014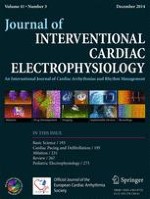 Catheter ablation versus anti-arrhythmic drug therapy for the management of a trial fibrillation: a meta-analysis
Autoren:

Xiaofeng Cheng, Xiaoqing Li, Yun He, Xiaoyan Liu, Guoqiang Wang, Li Cheng, Jianbo Hu
Wichtige Hinweise
Xiaofeng Cheng and Xiaoqing Li contributed equally to this work.
Abstract
Purposes
The current study was a meta-analysis designed to compare the therapeutic efficacy and safety of catheter ablation with those of anti-arrhythmic drugs, over the short and long term.
Methods
Comparative studies (randomized controlled trials) of catheter ablation vs. anti-arrhythmic drugs for the treatment of AF were retrieved from MEDLINE and EM BASE. The primary (no recurrence of AF) and secondary (major adverse events) outcomes were compared by meta-analysis, with sub-group analysis of short-term (1 year or less) and long-term (>1 year) effects.
Results
Of the 223 studies originally identified, 214 were excluded (duplication, non-randomized design, lack of relevance or lack of usable data). Compared with anti-arrhythmic drug therapy, catheter ablation was associated with superior efficacy (odds ratio [OR], 9.41; 95 % confidence interval [95 % CI], 5.00–17.71;
P
 < 0.01). Treatment success was higher for catheter ablation both in the short term (OR, 10.84; 95 % CI, 5.83–20.16;
P
 < 0.001) and long term (OR, 7.65; 95 % CI, 1.97–29.73;
P
 = 0.03). There was a trend toward a lower incidence of adverse events in the catheter ablation group (OR, 2.19; 95 % CI, 0.99–4.85), but this did not reach statistical significance (
P
 = 0.05).
Conclusion
Compared with anti-arrhythmic drugs, management of AF with catheter ablation showed superior efficacy in the short term that was maintained over the longer term.