01.12.2014 | Original Article | Ausgabe 3/2014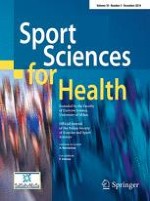 Characteristics of motivational patterns for sporting activity of swimmers with psychophysical disorders
Zeitschrift:
Autoren:

Galyna Boiko, Natalia Babych
Abstract
The article provides an insight into the characteristics of motivational patterns for sporting activities of swimmers with psychophysical disorders. The research has identified the relationship between motivational patterns and dominant motivational tendencies of swimmers with visual impairments and musculoskeletal system disorders. The subjects' qualification level: elite athletes, 26 persons; athletes of high qualification, 41 persons. The age of the participants ranged from 14 to 32 years. Methodology: theoretical analysis and systematization of data available from specialized scientific and methodological literature, empirical—discussions, interviews of trainers and athletes, psychognostic—a questionnaire initially developed by B. Kretti and upgraded by I. Yurov (Psychological testing and psychotherapy in sport. Sovetskiy Sport, Moskva, 2006) aimed to determine a motivational pattern and to assess motivation intensity of sporting activities of athletes with nosology; achievement motivation and failure avoidance (questionnaire test developed by M. Muhammad-Eminov); statistical—the method of averages,
χ
2
-criterion,
t
-criterion, the correlation coefficient (
r
), using STATISTICA-6 software program for the Windows and Microsoft Excel (2007). It has been proven that one of key components of the patterns of motivation for sporting activity of high-skilled swimmers with visual and mobility impairments is the need for public recognition through financial remuneration and moral incentives. It was proven that at a 5 % significance level, the motivation intensity of visually and mobility impaired male swimmers depends on their achievements in Paralympic sport. It has been determined that achievement motivation is dominant among athletes with visual impairments compared to athletes with musculoskeletal disorders.