01.12.2018 | Research | Ausgabe 1/2018 Open Access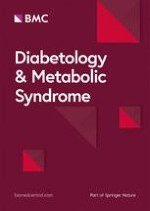 Characterization of spontaneously-developed non-alcoholic fatty liver disease in aged rhesus monkeys
Zeitschrift:
Autoren:

Wen Zheng, Yuli Liu, Haibao Shang, Yan Zhang, Dongwei Ma, Ning Hou, Jue Wang, Xueting Sun, Ying Peng, Lin Pan, Zhilong Wang, Xinran Tang, Rui-Ping Xiao, Xiuqin Zhang
Abstract
Background
Non-alcoholic fatty liver disease (NAFLD) is a global epidemic afflicting 20–30% in the general population. The animal model of NAFLD available at the present are less clinically relevant. In this study. We aimed to establish a NAFLD model of rhesus monkeys and develop an ultrasonographic steatosis score (USS) system to grade hepatic steatosis in this model.
Methods
We performed hepatic ultrasonography and blood biochemical tests on 86 rhesus monkeys with and without metabolic syndrome (MetS), among which 45 animals were further assessed by histopathological analysis.
Results
The liver histological features of rhesus monkeys NAFLD were resemble to those of NAFLD patients. There was a close correlation between the histological steatosis grade and the USS (Spearman's coefficient, 0.705, p < 0.001). The USS sensitivity was 87.5% and the specificity was 94.6% when the cut-off was USS2. In addition, the prevalence of MetS was significantly higher in the USS2–3 group. Multiple risk factors of cardiometabolic disease, including obesity, insulin resistance and dyslipidemia were significantly correlated with the USS.
Conclusions
NAFLD was developed spontaneously among aging in rhesus monkeys (with increased prevalence in the MetS monkeys), which provided an ideal model for NAFLD. The newly developed USS system can be used to evaluate fatty liver in the rhesus monkey. The model as well as the noninvasive assessment methodology will provide a powerful tool for mechanistic studies and preclinical test of novel therapies for NAFLD.