12.05.2017 | Original Article | Ausgabe 6/2017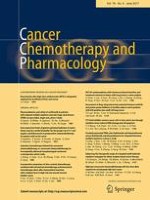 Circularly permuted TRAIL plus thalidomide and dexamethasone versus thalidomide and dexamethasone for relapsed/refractory multiple myeloma: a phase 2 study
Zeitschrift:
Autoren:

Yun Leng, Jian Hou, Jie Jin, Mei Zhang, Xiaoyan Ke, Bin Jiang, Ling Pan, Linhua Yang, Fang Zhou, Jianmin Wang, Zhao Wang, Li Liu, Wei Li, Zhixiang Shen, Lugui Qiu, Naibai Chang, Jianyong Li, Jing Liu, Hongyan Pang, Haitao Meng, Peng Wei, Hua Jiang, Yan Liu, Xiangjun Zheng, Shifang Yang, Wenming Chen
Abstract
Purpose
Circularly permuted TRAIL (CPT) has exhibited promising efficacy as a mono-therapy or in combination with thalidomide for patients with multiple myeloma (MM). In this phase 2 study, the safety and efficacy of CPT in combination with thalidomide and dexamethasone (CPT + TD) was evaluated in patients with pretreated relapsed/refractory MM (RRMM).
Methods
Patients who received at least two previous therapies for MM were randomly assigned at a 2:1 ratio to receive treatment with CPT + TD or thalidomide and dexamethasone (TD). The primary endpoint was the overall response rate (ORR), and the secondary endpoints included progression-free survival (PFS), duration of response (DOR) and safety.
Results
Overall, 47 patients were assigned to the CPT + TD group, and 24 patients were recruited to the TD group. The ORR in the CPT + TD group was 38.3 vs. 25.0% in the TD group. The median PFS time was 6.7 months for the CPT + TD group and 3.1 months for the TD group. The median DORs for the CPT + TD and TD groups were 7.1 and 3.2 months, respectively. Most of the adverse effects (AEs) were grade 1 or 2. Serious AEs were reported in 19.7% of the patients. No treatment-related deaths were reported.
Conclusion
CPT plus TD could serve as a new therapeutic strategy for patients with RRMM. A randomized, double-blind, placebo-controlled confirmatory study is currently under way.