15.09.2020 | COVID-19 | Reports of Original Investigations | Ausgabe 2/2021 Zur Zeit gratis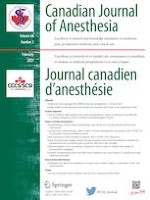 Early experience with critically ill patients with COVID-19 in Montreal
Autoren:

MD, MSc Yiorgos Alexandros Cavayas, MD Alexandre Noël, MD Veronique Brunette, BPharm, PhD David Williamson, PharmD, PhD Anne Julie Frenette, MD Christine Arsenault, MD Patrick Bellemare, MD Colin Lagrenade-Verdant, MD Soazig LeGuillan, MD Emilie Levesque, MD Yoan Lamarche, MD Marc Giasson, MD Philippe Rico, MD Yanick Beaulieu, MD Pierre Marsolais, MD Karim Serri, MD Francis Bernard, MD Martin Albert
Wichtige Hinweise
Publisher's Note
Springer Nature remains neutral with regard to jurisdictional claims in published maps and institutional affiliations.
Abstract
Purpose
Montreal has been the epicentre of the coronavirus disease (COVID-19) pandemic in Canada. Given the regional disparities in incidence and mortality in the general population, we aimed to describe local characteristics, treatments, and outcomes of critically ill COVID-19 patients in Montreal.
Methods
A single-centre retrospective cohort of consecutive adult patients admitted to the intensive care unit (ICU) of Hôpital du Sacré-Coeur de Montréal with confirmed COVID-19 were included.
Results
Between 20 March and 13 May 2020, 75 patients were admitted, with a median [interquartile range (IQR)] age of 62 [53–72] yr and high rates of obesity (47%), hypertension (67%), and diabetes (37%). Healthcare-related infections were responsible for 35% of cases. The median [IQR] day 1 sequential organ failure assessment score was 6 [3–7]. Invasive mechanical ventilation (IMV) was used in 57% of patients for a median [IQR] of 11 [5–22] days. Patients receiving IMV were characterized by a moderately decreased median [IQR] partial pressure of oxygen:fraction of inspired oxygen (day 1 PaO
2
:F
i
O
2
= 177 [138–276]; day 10 = 173 [147–227]) and compliance (day 1 = 48 [38–58] mL/cmH
2
O; day 10 = 34 [28–42] mL/cmH
2
O) and very elevated estimated dead space fraction (day 1 = 0.60 [0.53–0.67]; day 10 = 0.72 [0.69–0.79]). Overall hospital mortality was 25%, and 21% in the IMV patients. Mortality was 82% in patients ≥ 80 yr old.
Conclusions
Characteristics and outcomes of critically ill patients with COVID-19 in Montreal were similar to those reported in the existing literature. We found an increased physiologic dead space, supporting the hypothesis that pulmonary vascular injury may be central to COVID-19-induced lung damage.