01.12.2018 | Case report | Ausgabe 1/2018 Open Access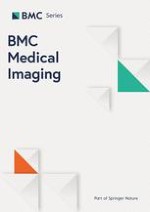 Desmoid-type fibromatosis mimicking cystic retroperitoneal mass: case report and literature review
Zeitschrift:
Autoren:

Kyu-Chong Lee, Jongmee Lee, Baek Hui Kim, Kyeong Ah Kim, Cheol Min Park
Abbreviations
APC
Adenomatous polyposis coli
DF
Desmoid-type fibromatosis
FAP
Familial adenomatous polyposis
Background
Desmoid-type fibromatosis (DF), also called desmoid tumor or deep fibromatosis, is an uncommon mesenchymal neoplasm composed of fibrous soft-tissue proliferation. The tumor is characterized by locally aggressive growth and frequent recurrence, although it never metastasizes [
1
]. DF usually occurs sporadically, but approximately 5% arise in association with familial adenomatous polyposis (FAP) [
2
]. Retroperitoneal DF is rare and accounts for less than 1% of retroperitoneal masses [
3
].
DF usually presents as a well-circumscribed solid mass on imaging studies [
4
]. Cystic changes of DF are rare and a few reports have suggested an association with prolonged medical treatment or abscess formation [
5
,
6
]. Spontaneous cystic degeneration in DF is extremely rare and only a few reports of such masses have been published [
7
–
9
]. Most of them were small lesions (less than 10 cm) presenting as pancreatic or mesenteric cystic tumors.
We report here an unusual case of sporadic retroperitoneal DF with spontaneous cystic change mimicking a cystic tumor, including histopathologic correlations.
Case presentation
A 46-year-old man visited the emergency department of our institution due to left lower quadrant pain and a palpable mass in the left upper abdomen. He had no specific relevant past medical history or family history. Physical examination disclosed a large, tender mass in the left abdomen. All laboratory findings were within normal ranges except a slightly increased CRP level (5.82 mg/L). Abdominal plain radiographs showed a large mass-like opacity in the left abdomen (Fig.
1a
). Ultrasonography revealed a large, thick-walled cystic mass without evidence of an intracystic solid portion or septum (Fig.
1b
). The patient underwent computed tomography (CT) scans to evaluate the intra-abdominal mass using a 64-slice multidetector CT scanner. Contrast-enhanced CT images revealed an 18.3 × 12.3 × 21.5 cm sized oval cystic mass with a relatively thick wall in the left upper abdomen (Fig.
2
). This lesion caused an extrinsic mass effect on the adjacent stomach and pancreas. The boundary between the mass and adjacent pancreas parenchyma was indistinct. Based on these imaging findings, a neurogenic tumor with cystic changes, a mucinous cystadenoma, and a pseudocyst were considered in the differential diagnoses. The patient underwent laparoscopic spleen-preserving distal pancreatectomy without preoperative biopsy due to a risk of rupture.
×
×
Intra-operatively, the mass was confirmed to have arisen from the retroperitoneum, closely related to the pancreas tail. Surgeons found hemorrhagic fluid within the cystic mass. The surgical specimen was a large round lump of soft tissue measuring 13 × 10.5 × 4.3 cm in size. On gross section, the cut surface revealed a rubbery texture with a whitish to light yellowish color. Almost half of the mass was composed of a cystic space that was filled with clear, light brownish fluid. The mass was diffusely infiltrating the pancreatic parenchyma. Microscopically, the tumor was composed of uniform sheets of elongated, spindle-shaped cells in a collagenous stroma (Fig.
3a
). The tumor was intermingled with the pancreatic parenchyma (Fig.
3b
). Immunohistochemical study showed the tumor cells were positive for smooth muscle actin (SMA) and beta-catenin (Fig.
3c
), but negative for S-100 protein and CD34. The final pathologic diagnosis was DF. The postoperative course was uneventful, and the patient was discharged on postoperative day 20. The patient remained asymptomatic during an 8-month follow up period.
×
Discussion
Conclusion
We report an extremely rare case of retroperitoneal DF with spontaneous cystic change. It can manifest as a mainly cystic mass with a thick wall, as in our case, that makes it difficult to reach a correct diagnosis. DF should be included in the preoperative differential diagnosis of a cystic retroperitoneal mass, regardless of its rarity.
Funding
This study was supported by a Korea University Grant (K1132871).
Availability of data and materials
All data generated or analyzed during this study are included in this published article.
Ethics approval and consent to participate
This study was approved by the Institutional Review Board fulfilling all requirements for studies in humans, following the guidelines of the 1975 Declaration of Helsinki.
Consent for publication
The patient provided written informed consent for publication of this case report and any accompanying images.
Competing interests
The authors declare that they have no competing interests.
Publisher's Note
Springer Nature remains neutral with regard to jurisdictional claims in published maps and institutional affiliations.
Open Access
This article is distributed under the terms of the Creative Commons Attribution 4.0 International License (
http://​creativecommons.​org/​licenses/​by/​4.​0/​
), which permits unrestricted use, distribution, and reproduction in any medium, provided you give appropriate credit to the original author(s) and the source, provide a link to the Creative Commons license, and indicate if changes were made. The Creative Commons Public Domain Dedication waiver (
http://​creativecommons.​org/​publicdomain/​zero/​1.​0/​
) applies to the data made available in this article, unless otherwise stated.