01.12.2012 | Research | Ausgabe 1/2012 Open Access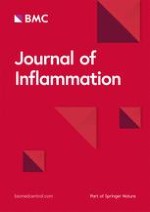 Effect of exercise on chemically-induced colitis in adiponectin deficient mice
Zeitschrift:
Autoren:

Arpit Saxena, Emma Fletcher, Bianca Larsen, Manjeshwar Shrinath Baliga, J Larry Durstine, Raja Fayad
Wichtige Hinweise
Electronic supplementary material
The online version of this article (doi:
10.​1186/​1476-9255-9-30
) contains supplementary material, which is available to authorized users.
Competing interests
The authors declare that they have no competing interests.
Authors' contributions
AS and EF were involved in study concept, design, data acquisition, analysis and interpretation, and writing of the manuscript. BL assisted in animal care. MSB was involved in manuscript review. JLD provided guidance in study concepts, particularly the exercise component of the research design. RF assisted in study design, technical support, data analysis and interpretation and mentorship of the first authors. All authors read and approved the final manuscript.
Abstract
Background
Inflammatory bowel diseases are associated with increased adiponectin (APN) levels, which may exert pro-inflammatory effects in these individuals. Since habitual exercise may increase APN, the aim of this study was to determine how exercise training affects mice with acute colitis.
Methods
Male adiponectin knock out (APNKO) and wild type (WT) mice (C57BL/6) were randomly assigned to 4 different groups: 1) Sedentary (SED); 2) Exercise trained (ET); 3) Sedentary with dextran sodium sulfate (DSS) treatment (SED + DSS); and 4) Exercise trained with DSS (ET + DSS). Exercise-trained mice ran at 18 m/min for 60 min, 5d/wk for 4 weeks. Subsequently, the ET + DSS and the SED + DSS mice received 2% DSS in their drinking water for 5 days (d), followed by 5d of regular water.
Results
The clinical symptoms of acute colitis (diarrhea, stool haemoccult, and weight loss) were unaffected by exercise and there was no difference between the APNKO and WT mice (p > 0.05) except on day 39. However, the clinical symptoms of the DSS-treated APNKO mice were worse than WT mice treated with DSS and had increased susceptibility to intestinal inflammation due to increased local STAT3 activation, higher IL-6, TNF-α, IL-1β and IL-10 levels, and as a result had increased intestinal epithelial cell proliferation (p < 0.05). Exercise training significantly decreased pro-inflammatory cytokines including IL-6, TNF-α and IL-1β (p < 0.05) in the DSS + EX APNKO mice but had no effect on epithelial cell proliferation. Exercise was also found to significantly decrease the phosphorylation expression of STAT3 in both WT and APNKO mice in DSS + EX group when compared to DSS + SED.
Conclusions
Exercise training may contribute in alleviating the symptoms of acute colitis and APN deficiency may exacerbate the intestinal inflammation in DSS-induced colitis.