21.09.2017 | Original Article | Ausgabe 1/2018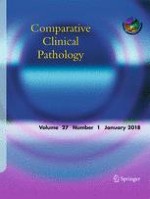 Effect of sodium levothyroxine on histomorphometry, histopathology, histochemistry, and immunohistochemistry of articular cartilage in female mice
Zeitschrift:
Autoren:

Simin Fazelipour, Minoo Shafii, Mahsa Hadipour Jahromi, Zahra Tootian, Mohammad Taghi Sheibani, Hassan Morovvati, Marzieh Minaei, Anahita Shahriari, Pooneh Koochaki, Safora Karimi
Abstract
Sodium levothyroxine is one of the common medicines used for treatment of hypothyroidism. The aim of the present study was to assess the effect of sodium levothyroxine on the middle part of tibia plateau in knee joint and related hormones in individuals affected by hypothyroidism. Fifty female mice were randomized into five groups. The first group was considered as control; the second and third groups were received different doses of levothyroxine; the forth group was undergone hypothyroidism; and the fifth group, the animals with hypothyroidism, was received levothyroxine orally. After 8 weeks, serum samples were taken to determine TSH, T4, FT4, T3, FT3, T3RU, calcium, and phosphorus. The cartilage of tibia plateau was evaluated using hematoxylin–eosin (histomorphometry of tibia plateau), toluidine blue (proteoglycans of matrix), TUNEL (chondrocytes apoptosis), and immunohistochemistry (rate of Collagen-II). The results showed that the number of chondrocytes, cartilage thickness, proteoglycans, and Collagen-II and the rate of T3 in the third group were significantly decreased; whereas, the percentage of apoptotic chondrocytes in the third group was significantly increased compared to those of other experimental groups (
P
< 0.05). FT3, FT4, TSH, calcium, and phosphorus values in most groups were also significantly different (
P
< 0.05). Regarding widely consumption of levothyroxine in hypothyroidism and its effects on knee joint cartilage, levothyroxine at high doses should be administered with care.