01.12.2017 | Research article | Ausgabe 1/2017 Open Access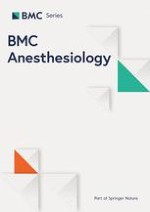 Effects of short-term hyperoxia on erythropoietin levels and microcirculation in critically Ill patients: a prospective observational pilot study
Zeitschrift:
Autoren:

Abele Donati, Elisa Damiani, Samuele Zuccari, Roberta Domizi, Claudia Scorcella, Massimo Girardis, Alessia Giulietti, Arianna Vignini, Erica Adrario, Rocco Romano, Laura Mazzanti, Paolo Pelaia, Mervyn Singer
Abstract
Background
The normobaric oxygen paradox states that a short exposure to normobaric hyperoxia followed by rapid return to normoxia creates a condition of 'relative hypoxia' which stimulates erythropoietin (EPO) production. Alterations in glutathione and reactive oxygen species (ROS) may be involved in this process. We tested the effects of short-term hyperoxia on EPO levels and the microcirculation in critically ill patients.
Methods
In this prospective, observational study, 20 hemodynamically stable, mechanically ventilated patients with inspired oxygen concentration (FiO2) ≤0.5 and PaO2/FiO2 ≥ 200 mmHg underwent a 2-hour exposure to hyperoxia (FiO2 1.0). A further 20 patients acted as controls. Serum EPO was measured at baseline, 24 h and 48 h. Serum glutathione (antioxidant) and ROS levels were assessed at baseline (t0), after 2 h of hyperoxia (t1) and 2 h after returning to their baseline FiO2 (t2). The microvascular response to hyperoxia was assessed using sublingual sidestream dark field videomicroscopy and thenar near-infrared spectroscopy with a vascular occlusion test.
Results
EPO increased within 48 h in patients exposed to hyperoxia from 16.1 [7.4–20.2] to 22.9 [14.1–37.2] IU/L (
p
 = 0.022). Serum ROS transiently increased at t1, and glutathione increased at t2. Early reductions in microvascular density and perfusion were seen during hyperoxia (perfused small vessel density: 85% [95% confidence interval 79–90] of baseline). The response after 2 h of hyperoxia exposure was heterogeneous. Microvascular perfusion/density normalized upon returning to baseline FiO
2
.
Conclusions
A two-hour exposure to hyperoxia in critically ill patients was associated with a slight increase in EPO levels within 48 h. Adequately controlled studies are needed to confirm the effect of short-term hyperoxia on erythropoiesis.