01.02.2020 | Original Article | Ausgabe 2/2020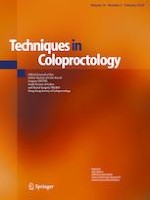 Efficacy of Doppler-guided hemorrhoidal artery ligation with mucopexy, in the short and long terms for patients with hemorrhoidal disease
Zeitschrift:
Autoren:

C. Ferrandis, D. De Faucal, J.-M. Fabreguette, F. Borie
Wichtige Hinweise
Publisher's Note
Springer Nature remains neutral with regard to jurisdictional claims in published maps and institutional affiliations.
Abstract
Background
Several studies comparing Doppler-guided hemorrhoidal artery ligation (DG HAL) with or without mucopexy with hemorrhoidopexy and hemorrhoidectomy techniques show no difference in short-term efficacy. The aim of this study was to evaluate efficacy of DG HAL with mucopexy (DG HAL+m) in the long term (beyond 5 years) for patients with hemorrhoidal disease.
Methods
A retrospective observational study was conducted on patients with symptomatic hemorrhoidal disease of any stage treated with DG HAL m at our outpatient colorectal surgery unit in April 2009–April 2013. Patients were followed clinically for 1 month and with a questionnaire until 5 years after surgery or until they underwent a second surgery for recurrent hemorrhoids.
Results
Of 150 patients who underwent DG HALm during the study period 50 (33.3%) were lost to follow-up. A total of 100 patients (47 women, 53 men) were analysed. The average age was 50 (± 12) years. Twenty-six patients (17.3%) had had one or more prior procedures. The mean length of hospital stay was 2.2 days (median = 2 days; range = 1–8 days). No major complications were described. There were no deaths. At 5 years the mean bleeding, local discomfort and pain scores were significantly improved. Thirty-six patients (35.6%) had a recurrence during the follow-up period, and 20 (19.8%) of them underwent reoperation. The mean time between the operation and the second procedure was 36 months (median 27.4 months). The majority (61.4%) of patients were satisfied with the procedure.
Conclusions
Despite the low invasiveness of DG HALm the low morbidity associated with the procedure and the satisfactory functional outcomes, the long-term recurrence rate can be very high. However, only about half of the patients who experienced a recurrence needed a second operation.