01.02.2014 | 2013 SSAT Plenary Presentation | Ausgabe 2/2014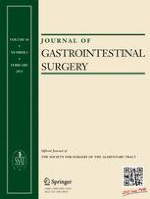 High-Resolution Manometry Classifications for Idiopathic Achalasia in Patients with Chagas' Disease Esophagopathy
Zeitschrift:
Autoren:

Fernando P. P. Vicentine, Fernando A. M. Herbella, Marco E. Allaix, Luciana C. Silva, Marco G. Patti
Wichtige Hinweise
This study was presented at the 2013 SSAT Plenary Presentation annual meeting, held at Orlando, FL, USA, last May 18–21, 2013.
Discussant
Dr. Nathaniel Soper (Chicago, IL, USA): The authors have applied the Chicago classification system of HRM, described by Kahrilas and Pandolfino from Northwestern in 2008, to a group of patients with either IA or CDE. They found ~50:50 distribution of types I and II in CDE. The CDE group had a more dilated esophagus than IA, and there is no type III in CDE. Because of the aganglionosis seen in CDE, one would not expect to see type III.
My questions are as follows:
1. What was the duration of symptoms in the two groups prior to HRM?
2. You state that there was no correlation between esophageal dilation and type, yet the
p
 = 0.08. Do you think this is due to small sample size, and have you tried to correlate esophageal pressure with diameter?
3. According to the Chicago classification scheme, types I and II are often a mix of pressurized readings. The definition of type I is two or fewer pressurized swallows out of 10, so it is incorrect to state that the nine patients changed from type I to II during the test.
4. Do you think that the type of motility pattern in CDE patients has any treatment implications?
Closing Discussant
Dr. Fernando Vicentine: Dr. Soper, thank you for your thoughtful questions.
1. We did not look at the duration of the symptoms. Your group showed 2 days ago that the duration of symptoms is a predictor for bad results with per oral endoscopy myotomy (POEM); however, studies using conventional manometry in CDE patients that had repeated manometry after 3 to 10 years did not show change in the manometry pattern; obviously, Chicago classification was not use at that time.
2. We did correlate the esophageal body pressure with the degree of esophageal dilatation to other study, and we found an indirect correlation; that is, the higher the pressure, the lower is the diameter.
3. The patients that changed from Chicago I to Chicago II were classified per definition as type II. We highlighted the phenomenon to reinforce the theory that we filled the esophagus with water, and this was responsible for the increase in pressure.
Yes, we do believe that the classification may predict outcomes, since the results for the treatment of IA and CDE have been the same, but we are now following up our patients to report, in a near future, conclusions for this question.
Abstract
Background
Idiopathic achalasia (IA) and Chagas' disease esophagopathy (CDE) share several similarities. The comparison between IA and CDE is important to evaluate whether treatment options and their results can be accepted universally. High-resolution manometry (HRM) has proved a better diagnostic tool compared to conventional manometry. This study aims to evaluate HRM classifications for idiopathic achalasia in patients with CDE.
Methods
We studied 98 patients: 52 patients with CDE (52 % females, mean age, 57 ± 14 years) and 46 patients with IA (54 % females; mean age 48 ± 19 years). All patients underwent a HRM and barium esophagogram.
Results
The Chicago classification was distributed in IA as Chicago I, 35 %; Chicago II, 63 %; and Chicago III, 2 %, and in CDE as Chicago I, 52 %; Chicago II, 48 %; and Chicago III, 0 % (
p
 = 0.1, 0.1, and 0.5, respectively). All patients had the classic Rochester type. CDE patients had more pronounced degrees of esophageal dilatation (
p
 < 0.002). The degree of esophageal dilatation did not correlate with Chicago classification (
p
 = 0.08). In nine (9 %) patients, the HRM pattern changed during the test from Chicago I to II.
Conclusion
Our results show that (a) HRM classifications for IA can be applied in patients with CDE and (b) HRM classifications did not correlate with the degree of esophageal dilatation. HRM classifications may reflect esophageal repletion and pressurization instead of muscular contraction. The correlation between manometric findings and treatment outcomes for CDE needs to be answered in the near future.