01.12.2017 | Research | Ausgabe 1/2017 Open Access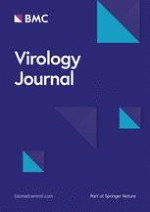 HPV16-E2 protein modifies self-renewal and differentiation rate in progenitor cells of human immortalized keratinocytes
Zeitschrift:
Autoren:

Victoria Domínguez-Catzín, Alicia-María Reveles-Espinoza, Janet Sánchez-Ramos, Raúl Cruz-Cadena, Diana Lemus-Hernández, Efraín Garrido
Wichtige Hinweise
Electronic supplementary material
The online version of this article (doi:
10.​1186/​s12985-017-0736-2
) contains supplementary material, which is available to authorized users.
Abstract
Background
Cervical cancer is the fourth cause of death worldwide by cancer in women and is a disease associated to persistent infection with human papillomavirus (HPV), particularly from two high-risk types HPV16 and 18. The virus initiates its replicative cycle infecting cells located in the basal layer of the epithelium, where a small population of epithelial stem cells is located performing important functions of renewal and maintenance of the tissue. Viral E2 gene is one of the first expressed after infection and plays relevant roles in the replicative cycle of the virus, modifying fundamental processes in the infected cells. Thus, the aim of the present study was to demonstrate the presence of hierarchic subpopulations in HaCaT cell line and evaluate the effect of HPV16-E2 expression, on their biological processes.
Methods
HaCaT-HPV16-E2 cells were generated by transduction of HaCaT cell line with a lentiviral vector. The α6-integrin-CD71 expression profile was established by immunostaining and flow cytometric analysis. After sorting, cell subpopulations were analyzed in biological assays for self-renewal, clonogenicity and expression of stemness factors (RT-qPCR).
Results
We identified in HaCaT cell line three different subpopulations that correspond to early differentiated cells (α6-integrin
dim
), transitory amplifying cells (α6-integrin
bri
/CD71
bri
) and progenitor cells (α6-integrin
bri
/CD71
dim
). The last subpopulation showed stem cell characteristics, such as self-renewal ability, clonogenicity and expression of the well-known stem cell factors
SOX2
,
OCT4
and
NANOG
, suggesting they are stem-like cells. Interestingly, the expression of HPV16-E2 in HaCaT cells changed its α6-integrin-CD71 immunophenotype modifying the relative abundance of the cell subpopulations, reducing significantly the percentage of α6-integrin
bri
/CD71
dim
cells. Moreover, the expression of the stem cell markers was also modified, increasing the expression of
SOX2
and
NANOG
, but decreasing notably the expression of
OCT4
.
Conclusions
Our data demonstrated the presence of a small subpopulation with epithelial "progenitor cells" characteristics in the HaCaT cell line, and that HPV16-E2 expression on these cells induces early differentiation.