01.12.2017 | Research article | Ausgabe 1/2017 Open Access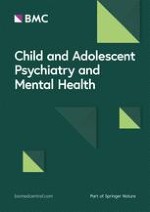 Identifying cross-cultural variations in psychostimulant use for attention deficit hyperactivity disorder using linked data
Zeitschrift:
Autoren:

Manonita Ghosh, C. D'Arcy J. Holman, David B. Preen
Abstract
Background
To validate the association between country-of-birth and disparities in the stimulant use for ADHD among individuals in Western Australia.
Methods
Using linked data, a population-based retrospective cohort of individuals admitted to hospital before age 25 years was followed through to identify having stimulants for ADHD in 2003–2007. Multivariate logistic and linear regressions were used to characterise associations between stimulants and country-of-birth, geographical remoteness and socioeconomic status.
Results
Of 679,645 individuals, 14,122 (2.1%) had a record of having stimulants for ADHD. Of these, 205 (1.5%) were born in Africa, Asia, Middle-East or South America, while 13,664 (96.8%) were born in Australia/New Zealand, Europe or North America. Individuals with traditionally non-Anglophonic backgrounds were around one-half as likely to have stimulants as individuals with Anglophonic backgrounds (OR = 0.53, 95% CI 0.46–0.61, p < 0.001). Non-Anglophones were an average of 2.7 years older than Anglophones at onset of having stimulants. Individuals from remote and disadvantaged backgrounds had stimulants at younger ages than individuals living in metropolitan areas and with least disadvantage.
Conclusions
The results highlight the importance of identifying factors underlying cultural differences in stimulant treatment for ADHD. Improving awareness of cultural variations may foster trust and rapport between patients and clinicians, and so better facilitate the appropriate and effective treatment of ADHD for each patient.