01.12.2020 | Review | Ausgabe 1/2020 Open Access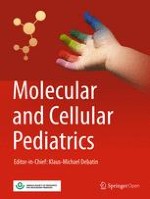 Impact of early-life diet on long-term renal health
Zeitschrift:
Autoren:

Eva Nüsken, Jenny Voggel, Gregor Fink, Jörg Dötsch, Kai-Dietrich Nüsken
Wichtige Hinweise
Publisher's Note
Springer Nature remains neutral with regard to jurisdictional claims in published maps and institutional affiliations.
Abstract
In the last years, great advances have been made in the effort to understand how nutritional influences can affect long-term renal health. Evidence has accumulated that maternal nutrition before and during pregnancy and lactation as well as early postnatal nutrition is of special significance. In this review, we summarize epidemiologic and experimental data on the renal effects of perinatal exposure to energy restriction, low-protein diet, high-fat diet, high-fructose diet, and high- and low-salt diet as well as micronutrient deficiencies. Interestingly, different modifications during early-life diet may end up with similar sequelae for the offspring. On the other hand, molecular pathways can be influenced in opposite directions by different dietary interventions during early life. Importantly, postnatal nutrition significantly modifies the phenotype induced by maternal diet. Sequelae of altered macro- or micronutrient intakes include altered nephron count, blood pressure dysregulation, altered sodium handling, endothelial dysfunction, inflammation, mitochondrial dysfunction, and oxidative stress. In addition, renal prostaglandin metabolism as well as renal AMPK, mTOR, and PPAR signaling can be affected and the renin-angiotensin-aldosterone system may be dysregulated. Lately, the influence of early-life diet on gut microbiota leading to altered short chain fatty acid profiles has been discussed in the etiology of arterial hypertension. Against this background, the preventive and therapeutic potential of perinatal nutritional interventions regarding kidney disease is an emerging field of research. Especially individuals at risk (e.g., newborns from mothers who suffered from malnutrition during gestation) could disproportionately benefit from well-targeted dietary interventions.