26.07.2020 | Research Article | Ausgabe 4/2020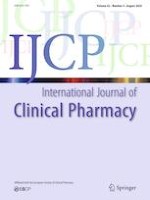 Impact of IL28B gene polymorphism on efficacy and safety of direct acting antivirals in hepatitis C Egyptian patients
Zeitschrift:
Autoren:

Abdel-Hameed Ibrahim Mohamed Ebid, Ossama Ashraf Ahmed, Sara Hassan Agwa, Sara Mohamed Abdel-Motaleb, Radwa Samir Hagag
Wichtige Hinweise
Publisher's Note
Springer Nature remains neutral with regard to jurisdictional claims in published maps and institutional affiliations.
Abstract
Background
Hepatitis C virus infection is one of the major causes of liver cirrhosis and hepatocellular carcinoma worldwide. IL28B gene polymorphism has a direct relation to the response of interferon-based regimens. However, the effect of IL28B gene polymorphism on efficacy of the new direct acting antivirals used in treatment of chronic hepatitis C Egyptian patients hasn't been studied yet.
Objective
This study aimed to investigate the frequency of IL28B genotypes and impact of its polymorphism on the efficacy and safety of two direct acting antiviral regimens.
Setting
Patients were recruited form faculty of Medicine Ain shams research institute, Cairo, Egypt.
Methods
Easy to treat chronic hepatitis C Egyptian patients were included in this prospective study. Patients were randomized into two groups, group 1 received sofosbuvir plus daclatasvir and group 2 received paritaprevir, ombitasvir and ritonavir plus ribavirin. Both treatment regimens were given for 3 months. Laboratory evaluation and IL28B rs 12979860 genotyping were performed at baseline. Follow ups were performed monthly. Fibrosis was assessed at baseline and after treatment.
Main outcome measures
The frequency of IL28B genotypes and their correlation with safety and efficacy of direct acting antiviral regimens.
Results
CT genotype was present in 52.42% of patients while CC and TT genotypes were present in 28.16% and 19.42% of patients, respectively. IL28B genotypes weren't correlated to sustained virologic response in both treatment groups. Baseline fibroscan scores didn't show any significant relations with IL28B genotypes. Aspartate aminotransferase/alanine aminotransferase ratio increased significantly at the end of treatment in group1. CC genotype had shown higher ratio values at the end of treatment in Group 2.
Conclusion
CT genotype is the predominant genotype in easy to treat HCV Egyptian patients. IL28B genotypes hasn't any predictive value on the efficacy or the safety of direct acting antiviral regimens.