01.12.2018 | Research article | Ausgabe 1/2018 Open Access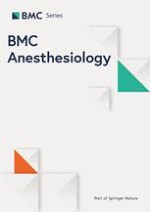 Influence of isoflurane exposure in pregnant rats on the learning and memory of offsprings
Zeitschrift:
Autoren:

Wei Huang, Yunxia Dong, Guangyi Zhao, Yuan Wang, Jingjing Jiang, Ping Zhao
Abstract
Background
About 2% of pregnant women receive non-obstetric surgery under general anesthesia each year. During pregnancy, general anesthetics may affect brain development of the fetus. This study aimed to investigate safe dosage range of isoflurane.
Methods
Forty-eight SpragueDawley (SD) pregnant rats were randomly divided into 3 groups and inhaled 1.3% isoflurane (the Iso1 group), 2.0% isoflurane (the Iso2 group) and 50% O2 alone (the control group) for 3 h, respectively. Their offsprings were subjected to Morris water maze at day 28 and day 90 after birth to evaluate learning and memory. The expression of cAMP-response element binding protein (CREB) and phosphorylated cAMP-response element binding protein (p-CREB) was detected in the hippocampus dentate gyrus.
Results
Less offsprings of Iso2 group were able to cross the platform than that of the control group (
P
 < 0.05). Accordingly, the Iso2 offsprings expressed p-CREB mainly in the subgranular zone in contrast to the whole granular cell layer of hippocampus dentate gyrus as detected in the Iso1 and control offsprings; the expression level of pCREB was also lower in the Iso2 than Iso1 or control offsprings (
P
 < 0.05).
Conclusion
Inhalation of isoflurane at 1.3% during pregnancy has no significant influence on learning and memory of the offspring; exposure to isoflurane at 2.0% causes damage to spatial memory associated with inhibition of CREB phosphorylation in the granular cell layer of hippocampus dentate gyrus.