01.03.2012 | Original Article | Ausgabe 1/2012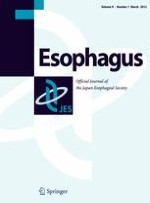 Interobserver agreement on endoscopic diagnosis of low-grade reflux esophagitis, including minimal changes
Zeitschrift:
Autoren:

Noriaki Manabe, Ken Haruma, Yoshio Hoshihara, Yoshikazu Kinoshita, Michio Hongo, Hiroyasu Makuuchi
Abstract
Background
In Japan, the majority of patients with gastroesophageal reflux disease have low-grade reflux esophagitis (RE), including minimal changes, and the modified Los Angeles (LA) classification is widely used. However, there have been few evaluations of interobserver agreement with this classification. This study was performed to elucidate the level of interobserver agreement for diagnosis low-grade RE, including minimal changes, and to identify any clinical factors that influenced the results.
Methods
A total of 114 endoscopists from university hospitals, community hospitals, and private practice participated. They assessed the grade of esophagitis in 8 patients by viewing endoscopic images. The images were projected onto a screen, and all of the endoscopists reviewed images together. The diagnosis was selected from the following five categories: grade M, grade A, short-segment columnar-lined esophagus, diagnosis difficult due to poor image quality, and others. After discussiing the endoscopic diagnosis, the images were projected in a random order and the endoscopists viewed them again. Kappa coefficients of reliability were calculated before and after the discussion, and we also evaluated factors influencing the results.
Results
The kappa values obtained before and after discussion were 0.41 and 0.70, respectively. We found three factors that influenced interobserver agreement: specialty, years of experience with endoscopic examination, and mean esophageal observation time per endoscopic examination.
Conclusions
The modified LA classification is reliable for diagnosing low-grade RE (including minimal changes) in Japan, although several factors can influence interobserver agreement.