30.04.2016 | Original Paper | Ausgabe 2/2016 Open Access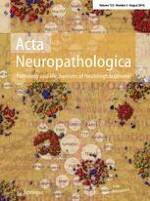 Intraneuronal aggregation of the β-CTF fragment of APP (C99) induces Aβ-independent lysosomal-autophagic pathology
Zeitschrift:
Autoren:

Inger Lauritzen, Raphaëlle Pardossi-Piquard, Alexandre Bourgeois, Sophie Pagnotta, Maria-Grazia Biferi, Martine Barkats, Pascale Lacor, William Klein, Charlotte Bauer, Frederic Checler
Wichtige Hinweise
Electronic supplementary material
The online version of this article (doi:
10.​1007/​s00401-016-1577-6
) contains supplementary material, which is available to authorized users.
Abstract
Endosomal-autophagic-lysosomal (EAL) dysfunction is an early and prominent neuropathological feature of Alzheimers's disease, yet the exact molecular mechanisms contributing to this pathology remain undefined. By combined biochemical, immunohistochemical and ultrastructural approaches, we demonstrate a link between EAL pathology and the intraneuronal accumulation of the β-secretase-derived βAPP fragment (C99) in two in vivo models, 3xTgAD mice and adeno-associated viral-mediated C99-infected mice. We present a pathological loop in which the accumulation of C99 is both the effect and causality of impaired lysosomal-autophagic function. The deleterious effect of C99 was found to be linked to its aggregation within EAL-vesicle membranes leading to disrupted lysosomal proteolysis and autophagic impairment. This effect was Aβ independent and was even exacerbated when γ-secretase was pharmacologically inhibited. No effect was observed in inhibitor-treated wild-type animals suggesting that lysosomal dysfunction was indeed directly linked to C99 accumulation. In some brain areas, strong C99 expression also led to inflammatory responses and synaptic dysfunction. Taken together, this work demonstrates a toxic effect of C99 which could underlie some of the early-stage anatomical hallmarks of Alzheimer's disease pathology. Our work also proposes molecular mechanisms likely explaining some of the unfavorable side-effects associated with γ-secretase inhibitor-directed therapies.