01.11.2010 | Original Article | Ausgabe 9/2010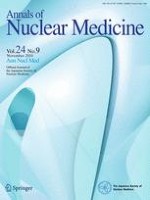 Iodine-123-metaiodobenzylguanidine imaging can predict future cardiac events in heart failure patients with preserved ejection fraction
Zeitschrift:
Autoren:

Shigehiko Katoh, Tetsuro Shishido, Daisuke Kutsuzawa, Takanori Arimoto, Shunsuke Netsu, Akira Funayama, Mitsunori Ishino, Takeshi Niizeki, Satoshi Nishiyama, Hiroki Takahashi, Takehiko Miyashita, Takuya Miyamoto, Joji Nitobe, Tetsu Watanabe, Isao Kubota
Abstract
Objective
Iodine-123-metaiodobenzylguanidine (123I-MIBG) has been used to assess the function of the cardiac sympathetic nervous system in patients with chronic heart failure (HF). The usefulness of 123I-MIBG imaging for evaluating patients with heart failure with preserved ejection fraction (HFPEF) has not been established.
Methods
We performed 123I-MIBG scintigraphy and echocardiography and measured the plasma brain natriuretic peptide (BNP) levels of 117 consecutive HF patients (64 men, mean age 66 ± 14 years) with a left ventricular ejection fraction (LVEF) of ≥50% who were admitted to our hospital. Patients were divided into 2 groups according to the New York Heart Association (NYHA) functional class.
Results
The
123
I-MIBG delayed heart-to-mediastinum (
H
/
M
) ratio was significantly lower, and the washout rate (WR) was higher in patients with HFPEF with advanced NYHA functional class (NYHA functional class I and II vs. III: 1.90 ± 0.34 vs. 1.49 ± 0.32,
p
< 0.0001; 25.9 ± 13.4 vs. 46.9 ± 16.3%,
p
< 0.0001, respectively). On the other hand, the
123
I-MIBG WR was not correlated with LVEF and had a weak correlation with plasma BNP levels (
R
= 0.207,
p
= 0.0346). Moreover, patients with a high
123
I-MIBG WR showed a poor clinical outcome (
p
= 0.0033).
Conclusions
123I-MIBG imaging provides independent prognostic information in patients with HFPEF.