01.12.2018 | Lungenkarzinome | Case report | Ausgabe 1/2018 Open Access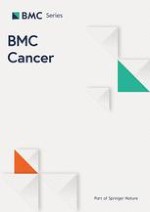 Efficacy and safety of everolimus treatment in a hemodialysis patient with metastatic atypical bronchial carcinoid: case report and literature review
Zeitschrift:
Autoren:

M. P. Brizzi, A. La Salvia, M. Tampellini, C. Sonetto, M. Volante, G. V. Scagliotti
Abbreviations
pT1pN2
UICC pathological TNM staging system
Background
In two phase III trials everolimus has been shown to be active against neuroendocrine tumors (NETs) arising from the lung [
1
,
2
]. Its tolerability in lung NET patients with concomitant severe renal insufficiency has never been reported. Here we describe the case of a hemodialysis patient with metastatic atypical bronchial carcinoid treated with everolimus.
Case presentation
In February 2011, a 47-year-old white male patient underwent right lung lobectomy for resection of an atypical bronchial carcinoid (pT1pN2). His medical history was significant for end-stage renal disease (ESRD) secondary to focal segmental glomerulosclerosis requiring iterative hemodialysis. In September 2011 a right hepatectomy was performed due to liver metastases; metastatic disease progressed to liver and bone over the next 17 months. Monthly administration of intramuscular Lanreotide 120 mg was initiated and continued for 1 year. In March 2014 further disease progression was noted and oral everolimus was initiated at a dose of 10 mg/day, then reduced to 5 mg/day 1 month later due to persistent grade II mucositis. No grade III-IV toxicities occurred. A computed tomography (CT) scan taken 3 months later showed stabilization of disease. Everolimus therapy was discontinued in November 2014, after a 9-month course of treatment, because of hepatic and bone disease progression. Somatostatin analogue therapy was continued throughout. A CT scan taken 6 months later revealed progression of liver disease and development of peritoneal metastases, for which 5 cycles of chemotherapy with temozolomide were administered from April to August 2015. Liver metastases and peritoneal metastases progressed, and oral metronomic chemotherapy with capecitabine was initiated in November 2015. The patient died in January 2016 due to disease progression.
Discussion and conclusions
Acknowledgements
None
Funding
This research did not receive any specific grant from funding agencies in the public, commercial, or not for-profit sectors.
Availability of data and materials
The data used and/or analyzed during the current study are available from the corresponding author on reasonable request.
Ethics approval and consent to participate
Patient written informed consent has been obtained to partecipate. A copy of the consent form is available for review by the Editor of this journal.
Consent for pubblication
Patient written informed consent has been obtained for pubblication.
Competing interests
The authors declare that they have no competing interests.
Publisher's Note
Springer Nature remains neutral with regard to jurisdictional claims in published maps and institutional affiliations.
Open Access
This article is distributed under the terms of the Creative Commons Attribution 4.0 International License (
http://​creativecommons.​org/​licenses/​by/​4.​0/​
), which permits unrestricted use, distribution, and reproduction in any medium, provided you give appropriate credit to the original author(s) and the source, provide a link to the Creative Commons license, and indicate if changes were made. The Creative Commons Public Domain Dedication waiver (
http://​creativecommons.​org/​publicdomain/​zero/​1.​0/​
) applies to the data made available in this article, unless otherwise stated.