30.01.2020 | Original Article | Ausgabe 2/2020 Open Access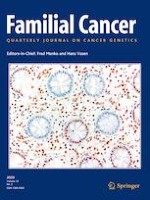 Mainstreamed genetic testing of breast cancer patients in two hospitals in South Eastern Norway
Zeitschrift:
Autoren:

Eli Marie Grindedal, Kjersti Jørgensen, Pernilla Olsson, Berit Gravdehaug, Hilde Lurås, Ellen Schlichting, Tone Vamre, Teresia Wangensteen, Cecilie Heramb, Lovise Mæhle
Wichtige Hinweise
Publisher's Note
Springer Nature remains neutral with regard to jurisdictional claims in published maps and institutional affiliations.
Abstract
Studies have shown that a significant number of eligible breast cancer patients are not offered genetic testing or referral to genetic counseling. To increase access to genetic testing in South Eastern Norway, testing has since 2014 been offered directly to breast cancer patients by surgeons and oncologists. This practice is termed "mainstreamed genetic testing". The aim of this study was to investigate to what extent patients in South Eastern Norway are offered testing. Three hundred and sixty one patients diagnosed in 2016 and 2017 at one regional and one university hospital in South Eastern Norway were included. Data on whether the patients fulfilled the criteria, whether they had been offered testing and if they were tested were collected. In total, 26.6% (96/361) fulfilled the criteria for testing. Seventy five percent (69/92) of these were offered testing, and 71.7% (66/92) were tested. At the university hospital, 90.2% (37/41) of eligible patients were offered testing, and at the regional hospital 62.7% (32/51). Fifty two percent (12/23) of eligible patient not offered testing were younger than 50 years at time of diagnosis. As many as 95.4% (125/131) of all patients who were offered testing, wanted to be tested. The majority of patients who fulfilled the criteria were offered testing, supporting the practice of mainstreamed genetic testing. There were nevertheless differences in rates of testing between the hospitals that affected all groups of patients, indicating that genetic testing may not be equally accessible to all patients. We suggest that efforts should be made to increase awareness and improve routines for genetic testing of breast cancer patients in Norway.