01.04.2011 | Review Article | Ausgabe 2/2011 Open Access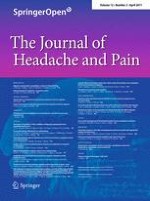 Migraine and psychiatric comorbidity: a review of clinical findings
Zeitschrift:
Autoren:

Fabio Antonaci, Giuseppe Nappi, Federica Galli, Gian Camillo Manzoni, Paolo Calabresi, Alfredo Costa
Introduction
It would therefore appear that the clinical-descriptive approach to the patient, demanded by the current diagnostic criteria, allows only a partial understanding of migraine, the nature of which certainly appears to be more complex and heterogeneous than previously thought.
Migraine psychiatric comorbidity
The relationship between migraine and certain psychological features, such as a tendency toward perfectionism, neuroticism, repressed aggressivity and melancholic mood has been repeatedly reported for more than a century. Over the years, several data in the literature have been collected on anedoctical bases. Recently, with the development of new diagnostic criteria and statistical methodology, some of these observations have been confirmed [
8
,
9
], but it is impossible to compare across all previous investigations due to differences in nosography and case definition. For instance, earlier than 2004, some nosologic entities, such as chronic migraine, which is frequently comorbid with psychiatric disorders, were not defined by diagnostic criteria.
Understanding the psychiatric correlates of migraine is critical for several reasons. Depressive disorders are among the leading causes of disability worldwide [
10
] and the WHO estimates that major depressive disorder will become the second leading cause of disease burden by the year 2020, second only to ischemic heart disease [
11
]. Migraine is a public health problem with an enormous impact on both the individual sufferer and on society. It is per se the most burdensome of the primary headache disorders [
12
,
13
]. The presence of psychiatric conditions is a risk factor for transformation of migraine into a chronic form [
7
]. Furthermore, individuals with migraine and comorbid psychiatric disorders are greater health resources users than migraineurs without psychiatric conditions. Recognizing this comorbidity should therefore result in improved patient management, via first-line treatment targeted at both conditions.
In this review, we have mainly considered the studies carried over after the publication of the first classification of the IHS [
14
], in adults and children, focused on the association between migraine and psychiatric disorders, as defined on axis I of the Diagnostic and Statistical Manual of Mental Disorders (DSM) [
15
].
General population studies
Studies on clinical samples
Since the introduction of the IHS criteria (1988) [
14
], several investigations have been carried over in clinic-drawn samples, with the aim of comparing migraine with other forms of headache (tension type headache, chronic daily headache, transformed migraine, and daily headaches with chronic substance abuse). None of the studies comparing migraine and tension-type headache could find significant differences in terms of psychiatric comorbidity [
31
–
33
], whereas the risk of psychiatric disorders was found to be increased in chronic headache, and particularly transformed migraine, as compared to episodic migraine patients [
33
–
36
]. In particular, a study by our group [
34
] investigated comorbidity with anxiety and depression in several groups of patients, including low back pain patients. While extrapolations of findings should be done cautiously (due to the fact that patients suffering from migraine with interval headache and patients with chronic tension type headache were considered as a whole sample), a significant comorbidity was observed in all groups of patients. Comorbidity was even more pronounced in patients who had had chronic headache for more than 5 years than in those with shorter disease duration. Interestingly, in this study all psychiatric disorders except for somatoform disorders were found to be associated with headache, suggesting that psychiatric comorbidity may be confined and specific to headache category, and it is not merely accounted for by the coexistence of chronic pain. Another study [
33
] compared migraine sufferers with daily headache patients with chronic substance abuse, and found that major depression was twice as frequent in patients with analgesic abuse. Similarly, other authors [
35
] demonstrated an increased risk of major depression, panic disorder and social phobia in patients with transformed migraine and chronic substance use, even after adjustment for age and gender. Juang et al. [
36
] compared patients suffering from transformed migraine with those suffering from chronic tension-type headache, and found a higher frequency of anxiety in transformed migraine patients after adjustment for age and gender. However, similar to the other studies in the field, the role of the diagnostic criteria for substance abuse or dependence criteria was not critically considered. Other authors [
37
] found that patients with migraine show higher severity of somatic, depressive and anxiety complaints. In addition, migraine appeared to be the strongest independent factor in predicting somatic severity of major depressive disorder, even after controlling for anxiety comorbidities and demographic variables. Recently, in a cross-sectional study panic disorder was found to prevail in migraine compared with tension-type headache or migraine plus tension-type headache, and the association was stronger when migraine was compared to pure tension-type headache; similarly, obsessive–complulsive disorder was more closely associated with migraine than to tension-type headache [
38
]. The importance of the impact of psychiatric comorbidity on chronicity and impaired quality of life in chronic daily headache sufferers has been pointed out by a recent selective overview [
39
]. In particular, the complex interplay of factors underlying the relationship between migraine, suicide risk and mood disorders deserve scientific interest and better methododologically based investigation [
40
].
From children to grown-up
Metanalysis of studies investigating the association of migraine and depression
With particular regard to the most investigated psychiatric comorbidity, i.e. depression, the crucial issue is whether depression is more frequent in individuals with headache and particularly with migraine and vice versa. An answer to this question may arise from studies that investigated the occurrence of these two disorders in the same population. The most reliable design of study to provide evidence on the association of the two diseases and on its nature is the cohort study. This study method consists of the analysis of the occurrence during time of depression in person with headache without depression and in normal non-depressed populations. The strategy for investigating the relationship between the two diseases may obviously be reversed looking for the occurrence of headache in depressed persons without headache. Less convincing evidence on the existence of an association between the two diseases is derived from cross-sectional studies where the temporal sequence of occurrence, and possible cause–effect relationship, are more hardly recognized. Another study design for investigating the association of two diseases is the case–control study. In case–control studies, a group of subjects with the disease of interest (cases) is compared with a group of subjects without the disease of interest (controls). This type of study needs accurate study designs in order to control for possible bias due to the effect of confounders.
Using as key words headache or migraine and depression, we retrieved in medline 47 studies on the issue of the relationship between headache and depression. Most are cross-sectional, a minority are case–control studies; no cohort studies have been retrieved. Three criteria have been used in the selection of the papers for the metanalysis. The first was the consistence of the paper content with the issue of interest. The second was the presentation of original data. The third was the possibility of deriving crude data from the paper, and this was a
conditio sine qua non
for the execution of the metanalytic procedure. Of the 47 studies, 17 were inconsistent with the issue of the relationship between migraine and depression; 5 were reviews or editorials presenting no original data; finally, for 13 studies it was impossible to derive the crude data. 12 studies remained therefore available for the metanalysis (Table
1
) [
7
,
19
,
23
–
25
,
27
,
56
–
60
].
Table 1
Prevalences and odds ratios of depression in migraineurs with respect to subjects without migraine for each one of the 12 considered studies
Study

Subject age range (years)

Diagnostic tool

Without migraine

Depression

With migraine

Depression

OR (95% CI)

No

Yes (%)

No

Yes (%)

18–65

CIDI

3,762

305 (7.5)

455

79 (14.8)

2.1 (2.1–1.7)

ND

HAMD–S DSSS

62

20 (24.4)

38

35 (47.9)

2.8 (2.9–1.5)

15–over 65

CIDI

31,772

1,122 (3.4)

3,641

343 (8.6)

1.8 (1.8–1.6)

ND

CES-D

1,043

242 (18.8)

80

71 (47.0)

3.8 (3.8–2.7)

27–28

SPIKE

367

29 (7.3)

52

9 (14.7)

2.2 (1.0–4.8)

25–55

CIDI

453

86 (16.0)

287

209 (42.1)

3.8 (2.9–5.1)

19–85

SCAN, BDI

808

1,070 (57.0)

43

189 (81.5)

3.3 (2.4–4.6)

18–65

PRIME-MD

315

64 (16.9)

206

183 (47)

4.4 (3.2–6.0)

Lanteri-Minet et al. [

58

]

ND

HADS

6,651

1,264 (15.7)

1,465

442 (23.2)

1.6 (1.4–1.8)

25–55

CIDI

492

94 (16.0)

318

218 (40.7)

3.6 (2.7–4.7)

Over 18

DSM-IV

682

102 (13.0)

110

53 (32.5)

3.2 (2.2–4.7)

25–74

CIDI-SF

1,319

185 (18.5)

243

97 (28.5)

2.8 (2.2–3.7)
Table
1
shows the prevalences and the odds ratios of depression in patients with migraine with respect to subjects without migraine for each one of the 12 considered studies. Across the studies, the prevalence estimates of depression were highly variable, whereas the ratio of depression prevalence between subjects with and without migraine was more consistent. The prevalence estimates varied from a minimum of 3.4% to a maximum of 24.4% in individuals without migraine. The corresponding figures among migraineurs were 8.6 and 47.9%. The individual study odd ratios had a minimum of 1.8 and a maximum of 4.4; however, the confidence limits of each study were comprehensive of almost all the point estimates of the other studies. The overall risk estimate gave an odd of depression for people with migraine with respect to people without migraine of 2.2, with a 95% confidence interval of 2.0–2.3. It should be noted that the two largest studies [
18
,
56
] reported the lowest odd ratios (1.6, 1.8, respectively). Furthermore, these two studies were characterized by high number of participants and this may have influenced the results and decreasing the mean values of the overall studies (Table
1
).
In conclusion, all the individual studies and the overall metanalytic investigation show that depression is almost two time more frequent in subjects with migraine than in people unaffected by headache.
Mechanisms of migraine psychiatric comorbidity
It would therefore appear that only phobic disorders predict the onset of migraine, and that a clear bidirectional relationship exists between migraine and depression or panic disorder, that is, each disorder may represent a risk factor of the other.
Impact of psychiatric comorbidity on migraine
Comorbidity with psychiatric disorders raises the global burden of migraine. Increasing evidence suggests that migraine in comorbidity with psychiatric disorders is associated with poorer health-related outcomes [
18
]. Several studies have so far examined health-related outcomes of migraine, investigating variables such as disability, restriction of activity, quality-of-life or mental health care utilization [
73
–
76
]. In these cases, however, investigation was regularly restricted to migraine, without taking into consideration any possible psychiatric comorbidities. When comorbidity was taken into account, in patients suffering from both conditions the prevalence of disability, restriction of activities, poorer quality of life and mental health care use was found to be higher than in those with only one of the two conditions, and even higher than in those with neither condition [
18
]. Other authors [
77
] reported that male patients with comorbid bipolar disorder and migraine were more likely than those without migraine to utilize mental health care services. The same group found that bipolar females with comorbid migraine were more likely to require assistance in their daily routine when compared with bipolar females without migraine. Patients with migraine were found more likely to have a history of various psychiatric disorders and concomitantly to report job absenteeism, to rate their general health as fair or poor, and to use mental health services [
28
]. Recent evidence from large populations of patients has confirmed that single-item scales are valid and reliable to assess symptom severity, psychosocial function, and quality of life [
78
]. Health-related quality of life was reported to be generally lower in patients with comorbid migraine and one mental health disorder [
21
,
63
,
74
]. Similarly, in patients with MDD, the coexistence of migraine was shown to predict a significant negative impact on all physical subscales and vitality in the assessment of quality of life [
79
]. The same group reported that subjects with migraine, anxiety, or chronic depression had higher depression scores and poor quality of life; in addition migraine, specific phobia, and panic disorder were important and independent comorbidities predicting quality of life [
80
]. The presence of migraine should therefore be considered as an important clinical symptom in all clinic-based samples of depressed patients. However, as already pointed out [
18
] the currently available studies does not elucidate whether health-related outcome variables are specific to migraine or to mental disorders [
18
]. Different mechanisms may link migraine, psychiatric disturbances and poor quality of life. In patients with migraine and comorbid psychiatric problems, the impairment in quality of life may indeed mirror a real ill condition, or an altered perception of life circumstances, or both. Prospective studies will probably help to clarify these important points.
Conclusions
Though not easily comparable due to differences in methodology to reach diagnosis (i.e. psychiatric interviews and scales), population based studies generally indicate an increased risk of affective and anxiety disorders in patients with migraine, compared to non-migrainous subjects. There would also be a trend towards an association of migraine with bipolar disorder. By contrast, there is definitely no comorbidity with substance abuse/dependence. With respect to migraine subtypes, comorbidity (e.g. suicide attempts, bipolar disorder) mainly involves migraine with aura rather than the form without aura.
However, the lack of diagnostic recognition of certain forms of migraine, such as chronic migraine, due to the use of the first version of IHS criteria, may have significantly affected the results of several studies. Another limitation is that some of these studies were carried over within psychiatric research protocols, and thus were not originally designed to investigate the comorbidity between migraine and psychiatric disorders.
Apparently, no significant difference exists between migraine and tension-type headache patients in terms of prevalence of psychiatric comorbidity. By contrast, patients suffering from migraine show a decreased risk of developing affective and anxiety disorders compared to patients with chronic daily headache. It would also appear that affective and anxiety disorders prevail in patients with chronic forms of headache and substance use than in patients with migraine alone. Furthermore, patients with "transformed" (or chronic) migraine show an increased prevalence of affective and anxiety disorders compared to patients with simple migraine or chronic tension-type headache. Although early studies suggested that there is a correlation between frequency of headache and frequency of anxiety or depressive disorders, little evidence support a correlation between the severity of migraine and anxious or depressive symptoms.
In conclusion, the mechanisms underlying migraine psychiatric comorbidity are presently poorly understood, but issues concerning this topic remain a priority for future research. Psychiatric comorbidity indeed affects migraine evolution, may lead to chronic substance use and may change treatment strategies, eventually modifying the outcome of this important disorder.
Conflict of interest
None.
Open Access
This article is distributed under the terms of the Creative Commons Attribution License which permits any use, distribution and reproduction in any medium, provided the original author(s) and source are credited.