01.11.2010 | 2010 SSAT Plenary Presentation | Ausgabe 11/2010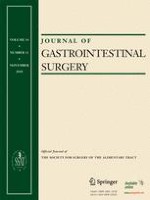 Modified "Liver-Sparing" Multivisceral Transplant with Preserved Native Spleen, Pancreas, and Duodenum: Technique and Long-Term Outcome
Zeitschrift:
Autoren:

Ruy J. Cruz Jr, Guilherme Costa, Geoffrey Bond, Kyle Soltys, William C. Stein, Guosheng Wu, Lillian Martin, Darlene Koritsky, John McMichael, Rakesh Sindhi, George Mazariegos, Kareem M. Abu-Elmagd
Wichtige Hinweise
Presented at: Society of Surgery of the Alimentary Tract (SSAT)-DDW, May 3, 2010, New Orleans, LA
Discussant
DR. JEAN-NICOLAS VAUTHEY (Houston, TX): This is an impressive and well presented series, representing the state of the art in multivisceral transplantation. The data reflect a more economical approach over the years in visceral transplantation and suggest a benefit in the preservation of the spleen. Although the analysis is limited by the small numbers, there seem to be less GVHD and less post-transplantation lymphoproliferative disorders, and this occurs without an increase in rejection.
I have two questions for you.
The first is regarding the indication for Gardner's syndrome. I think this is a controversial indication. There is only a small subset of patients with Gardner's syndrome that truly benefits from transplantation. We have observed and not resected many patients with desmoid tumors, and we are also using an economical approach in terms of oncologic procedures in these patients. So when and why would you transplant these patients? The second question is regarding the mechanism underlying the protective effect of the spleen and the reason for the lower rate of GVHD and post-transplant lymphoproliferative disorders. What is the pathophysiology underlying this protective effect?
Discussant
DR. RUY CRUZ, JR.: Thank you Dr. Vauthey for agreeing to discuss our manuscript, and we greatly appreciate your nice comment. Your first question is a valid one reflecting, similar to other organ transplantation, the evolution of the indication for our described herein new technique. With being the second common indication, the procedure is utilized as the ultimate rescue therapy for patients with extensive desmoid tumors that could not be resected without evisceration of the native left upper abdominal organs. In a subset of patients, the coexistence of short gut syndrome with irreversible intestinal failure precluded a conservative surgical resection of high-grade duodenal adenomas without worsening of the intestinal failure. Before referral, all of the ten recipients underwent comprehensive medical and surgical management including chemotherapy, irradiation, and multiple abdominal explorations without successful outcome. Most of these patients underwent a final surgical exploration at our institution to assess resectability with the aim for conservative surgical treatment including autotransplantation. Such a conservative approach continued to be adopted with allotransplantation and the native spleen was preserved in 67% of these unique patients.
Your second question concerning the protective effect of the preserved native spleen on post-transplant lymphoproliferative disorders (PTLD) and graft versus host disease (GVHD) is a very interesting one. As we all know, the spleen is an important immunologic organ that we all need. The results did not surprise us and our academic interest trying to dissect the underlying mechanism is currently under investigation. Our hypothetical explanation is a protective immune surveillance effect and a favorable net balance state between the recipient and donor immune complex.
Abstract
Background
Modification of the originally described multivisceral transplant operation was introduced at our institution 17 years ago. Donor liver was spared, and native spleen along with pancreaticoduodenal complex was preserved.
Methods
Thirty-six modified multivisceral grafts that include stomach, duodenum, pancreas, and intestine were given to 30 adults and six children. Leading causes of intestinal failure were pseudo-obstruction and Gardner's syndrome. Native spleen was preserved in 24 (67%) recipients along with pancreaticoduodenal complex in 18 (50%). Immunosuppression was tacrolimus-based, and recipient preconditioning was utilized in 80% of patients.
Results
Patient survival was 94% at 1 year and 75% at 5 years with graft survival of 91% and 51%; respectively. With mean follow-up of 51 ± 35 months, full nutritional autonomy was achieved in 89% of current survivors with no single example of disease recurrence. Preservation of native spleen was associated with increased survival and reduced risk of PTLD, life-threatening infections, and GVHD with no significant impact on graft loss due to rejection. Concomitant preservation of pancreaticoduodenal complex eliminated risks of biliary complications and glucose intolerance.
Conclusion
Modified multivisceral transplantation with and without preservation of native spleen, pancreas, and duodenum is a valid therapeutic option for patients with diffuse gastrointestinal disorders and preserved hepatic functions.