01.12.2014 | Original Article | Ausgabe 6/2014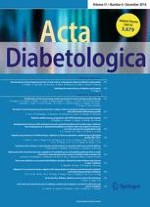 Modulation of coronary heart disease risk by insulin resistance in subjects with normal glucose tolerance or prediabetes
Zeitschrift:
Autoren:

Danit Ariel, Gerald Reaven
Wichtige Hinweise
Managed by Antonio Secchi.
Abstract
Aims
This study was based on the hypothesis that: (1) coronary heart disease (CHD) risk is accentuated in the insulin-resistant subset of persons with normal glucose tolerance (NGT) or prediabetes (PreDM); (2) the prevalence of insulin resistance, and associated abnormalities, is greater in subjects with PreDM; and (3) insulin resistance is the major contributor to increased CHD risk in these individuals.
Methods
A 75 g oral glucose challenge was used to classify volunteers as having NGT or PreDM. Steady-state plasma glucose (SSPG) concentrations during the insulin suppression test subdivided both groups into insulin sensitive (IS = SSPG < 8.4 mmol/L) or resistant (IR = SSPG ≥ 8.4 mmol/L). Measurements were made of demographic characteristics, blood pressure, and lipid and lipoprotein concentrations, and comparisons made between the subgroups.
Results
Subjects with PreDM (
n
= 127) were somewhat older, more likely to be non-Hispanic men, with increased adiposity than those with NGT (
n
= 315). In addition, they had higher FPG concentrations, were insulin resistant (SSPG concentration; 11.4 vs. 7.2 mmol/L), with higher blood pressures, and a significantly more adverse CHD risk lipid profile (
p
< 0.001). Twice as many subjects with PreDM were IR (72 vs. 35 %), and the CHD risk profile was significantly worse in the IR subgroups in those with either NGT or PreDM.
Conclusions
Coronary heart disease risk profile is significantly more adverse in subjects with PreDM as compared to individuals with NGT. However, glucose tolerance status is not the only determinant of CHD risk in nondiabetic individuals, and differences in degree of insulin resistance significantly modulate CHD risk in subjects with NGT or PreDM.