06.02.2017 | Original Article | Ausgabe 3/2017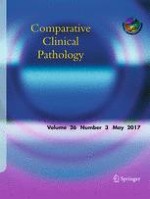 Morphological features of glands in the gastrointestinal tract of the African pied crow (
Corvus albus

)
Zeitschrift:
Autoren:

Anietie Francis Udoumoh, John Chika Ikejiobi
Abstract
The anatomical characteristics of glands of the gut of the African pied crow (
Corvus albus
) were investigated using histological and histochemical techniques. Seven crows were used for this study. The result showed that the glands were distributed throughout all the segments of the gut of the African pied crow. In the oropharynx, tongue, and esophagus, glands were present in the subepithelial regions and in the lamina propria mucosae, while glands of the proventriculus and ventriculus were observed in the lamina propria mucosae and in the submucosa. Glands of the proventriculus showed both serous and mucous characteristics and the crypt glands of the crow's small intestine extended deep through the thickness of the submucosa and contained epithelia which varied from simple columnar epithelium near the villi to the pseudostratified columnar epithelium deep into the submucosa. Although goblet cells which lined the lumen of the small and large intestines demonstrated PAS-positive reactions, cells of the crypts had characteristic features of serous-secreting cells. In conclusion, the data presented in this study represent morphofunctional modifications of the gut of the crow that may be related to their feeding habit, exposure to microorganisms, and species adaptations which could guide the management of this wild species.