01.12.2018 | Case report | Ausgabe 1/2018 Open Access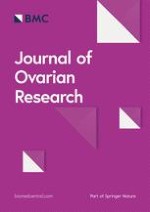 Non-classical 11β-hydroxylase deficiency caused by compound heterozygous mutations: a case study and literature review
Zeitschrift:
Autoren:

Dongdong Wang, Jiahui Wang, Tong Tong, Qing Yang
Abstract
Background
11β-hydroxylase deficiency (11OHD) is extremely rare, and reports of non-classical 11OHD are even rarer. Non-classical 11OHD usually presents as premature adrenarche, hyperandrogenism, menstrual disorders, and hypertension. Because the symptoms of non-classical 11OHD are mild, delayed diagnosis or misdiagnosis as polycystic ovary syndrome or primary hypertension is common.
Case presentation
This paper introduces a case of a young female patient presenting hypertension and menstrual disorders. Laboratory examination revealed increased androgen levels, mild adrenal hyperplasia, mild left ventricular hypertrophy, and mild sclerosis of the lower limb arteries. 11OHD was confirmed by genetic testing, and the patient was found to carry compound heterozygous mutations in
CYP11B1
(c.583 T > C and c.1358G > A). The mutation Y195H is located in exon 3 and has not been reported previously. In silico studies indicated that this mutation may cause reduced enzymatic activity. After treatment with hydrocortisone and spironolactone, blood pressure was brought under good control, and menstruation returned to normal. We also conducted a retrospective review of previously reported cases in the literature (over 170 cases since 1991).
Conclusions
Early diagnosis of non-classical 11OHD is difficult because its symptoms are mild. The possibility of this disease should be considered in patients with early-onset hypertension, menstrual disorders, and hyperandrogenism to provide early treatment and prevent organ damage due to hypertension and hyperandrogenism.
CYP11B1
mutations are known to be race-specific and are concentrated in exons 3 and 8, of which mutations in the former are mostly associated with non-classical 11OHD, whereas mutations in the latter are mostly found in classical 11OHD, characterized by severe loss of enzymatic activity.