10.02.2020 | Pictorial Essay | Ausgabe 5/2020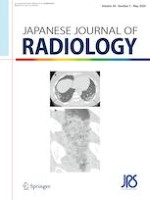 Paravesical space arteriovenous malformation as a specific subgroup of pelvic vascular anomaly: a case series and review of literature
Zeitschrift:
Autoren:

Mitsuhiro Kishino, Kenji Nishida, Koichiro Kimura, Marie Takahashi, Shuichiro Nakaminato, Hiroko Kume, Hidetoshi Uchiyama, Toshifumi Kudo, Shuichi Kawada, Kouichi Mori, Ukihide Tateishi
Wichtige Hinweise
Publisher's Note
Springer Nature remains neutral with regard to jurisdictional claims in published maps and institutional affiliations.
Abstract
Treatment of pelvic arteriovenous malformations (AVMs) is frequently challenging because of the complex structures and anatomical diversity among cases. We present a case series of six patients with pelvic AVMs. All patients had a similar anatomical structure consisting of multiple feeders from the unilateral internal iliac artery, collecting into a dilated venous sac in the unilateral paravesical space and draining into a single outflow, eventually joining the pre-prostatic vein or internal iliac vein. Five among these patients were successfully treated by catheter-directed embolo-sclerotherapy. In addition to our six cases, we identified six previous case reports of pelvic AVM with similar anatomical characteristics. Herein, we summarize the clinical and anatomical features of these 12 paravesical AVM cases. In all cases, the patients were men; the AVM was predominantly located at the right paravesical space and demonstrated good therapeutic effect of catheter-directed embolosclerotherapy. These paravesical AVMs may constitute a new subgroup of pelvic vascular anomalies with the same etiology that are treatable by adequate catheter intervention.