21.11.2020 | Original Article | Ausgabe 2/2021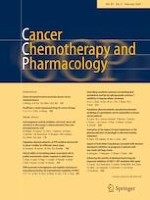 PDK4 promotes tumorigenesis and cisplatin resistance in lung adenocarcinoma via transcriptional regulation of EPAS1
Zeitschrift:
Autoren:

Shuo Yu, Yang Li, Hui Ren, Hong Zhou, Qian Ning, Xue Chen, Tinghua Hu, Lan Yang
Wichtige Hinweise
Electronic supplementary material
Shuo Yu and Yang Li contributed equally.
Publisher's Note
Springer Nature remains neutral with regard to jurisdictional claims in published maps and institutional affiliations.
Abstract
The use of cisplatin for the treatment of non-small cell lung cancer has long been constrained by the rapid acquisition of tumor cell chemoresistance. In the present study, we sought to better elucidate the molecular mechanisms underlying this resistance phenotype. To that end, we assessed gene expression patterns in cisplatin-resistant lung adenocarcinoma cells, revealing pyruvate dehydrogenase lipoamide kinase isozyme 4 (PDK4) to be the most up-regulated kinase in resistant cells. We further found PDK4 upregulation to be directly linked with the acquisition of chemoresistance, driving enhanced tumor cell growth in vitro and in vivo. In clinical samples, we also found that PDK4 upregulation was detectable in patients with lung adenocarcinoma and that it was correlated with a poorer prognosis for these patients. From a mechanistic perspective, we further determined that PDK4 was able to promote lung adenocarcinoma cell growth and cisplatin resistance at least in part via regulating endothelial PAS domain-containing protein 1 (EPAS1) expression, thus highlighting PDK4 as a potentially viable therapeutic target in efforts to treat lung adenocarcinoma patients that have become resistant to cisplatin.