01.12.2014 | Assisted Reproduction Technologies | Ausgabe 12/2014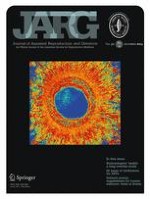 Perinatal outcomes for transfer of blastocysts vitrified and warmed in defined solutions with recombinant human albumin: 374 babies born after 898 embryo transfers
Zeitschrift:
Autoren:

Masao Murakami, Akiyoshi Egashira, Keiko Tanaka, Chizuru Mine, Hitomi Otsubo, Takeshi Kuramoto
Wichtige Hinweise
Capsule
High rates of pregnancy and live births were obtained after transfer of human blastocysts that had been vitrified/warmed in chemically defined solutions containing recombinant human albumin.
Abstract
Purpose
To assess the efficacy of a novel, defined vitrification procedure using recombinant human albumin (rHA) for cryopreservation of human blastocysts. Design: Retrospective study. Setting: Private IVF clinic. Patients: 1,496 patients received vitrified/warmed embryo transfer (ET).
Methods
Surplus blastocysts, and blastocysts from patients undergoing elective embryo cryopreservation, were vitrified/warmed using Cryotop carriers in homemade solutions containing either human serum albumin (HSA) or rHA. Main Outcome Measures: Clinical and neonatal outcomes regarding the vitrified/warmed ET procedures.
Results
The HSA and rHA groups had a total of 1,163 and 898 vitrified/warmed cycles, respectively. Embryo survival rates (98.7 % vs. 98.9 %, respectively) and the number of embryos transferred (1.08 ± 0.01 vs. 1.06 ± 0.01, respectively) were similar in the HSA and rHA groups. Clinical pregnancy rates/ET were higher (
P
 < 0.05) in the rHA group (56.0 %) than in the HSA group (51.5 %). The HSA and rHA groups had similar live delivery rates/pregnancy (72.2 % vs. 72.3 %, respectively) and perinatal outcomes, including birth weight (2,988 ± 28 vs. 3,046 ± 26 g, respectively). Birth defects occurred in 0.9 % and 1.6 % of neonates in the HSA and rHA groups, respectively.
Conclusions
rHA effectively replaced HSA for human embryo vitrification procedures, and yielded high rates of pregnancy and live births after vitrified/warmed ET. This new approach will support the development of defined ART systems, which will eliminate the variation and risks associated with the use of blood-derived products.