27.04.2020 | Original Research Article | Ausgabe 9/2020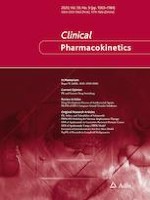 Pharmacokinetic Drug–Drug Interaction of Apalutamide, Part 2: Investigating Interaction Potential Using a Physiologically Based Pharmacokinetic Model
Zeitschrift:
Autoren:

An Van den Bergh, Jan Snoeys, Loeckie De Zwart, Peter Ward, Angela Lopez-Gitlitz, Daniele Ouellet, Mario Monshouwer, Caly Chien
Wichtige Hinweise
Electronic supplementary material
Daniele Ouellet and Caly Chien were employees of Janssen Research & Development during the conduct of the study, analysis, and interpretation of the results.
Abstract
Background
Apalutamide is predominantly metabolized via cytochrome P450 (CYP) 2C8 and CYP3A4, whose contributions change due to autoinduction with repeated dosing.
Objectives
We aimed to predict CYP3A4 and CYP2C8 inhibitor/inducer effects on the steady-state pharmacokinetics of apalutamide and total potency-adjusted pharmacologically active moieties, and simulated drug–drug interaction (DDI) between single-dose and repeated-dose apalutamide coadministered with known inhibitors/inducers.
Methods
We applied physiologically based pharmacokinetic modeling for our predictions, and simulated DDI between single-dose and repeated-dose apalutamide 240 mg coadministered with ketoconazole, gemfibrozil, or rifampicin.
Results
The estimated contribution of CYP2C8 and CYP3A4 to apalutamide metabolism is 58% and 13%, respectively, after single dosing, and 40% and 37%, respectively, at steady-state. Apalutamide exposure is predicted to increase with ketoconazole (maximum observed concentration at steady-state [
C
max,ss
] 38%, area under the plasma concentration–time curve at steady-state [AUC
ss
] 51% [pharmacologically active moieties,
C
max,ss
23%, AUC
ss
28%]) and gemfibrozil (
C
max,ss
32%, AUC
ss
44% [pharmacologically active moieties,
C
max,ss
19%, AUC
ss
23%]). Rifampicin exposure is predicted to decrease apalutamide (
C
max,ss
25%, AUC
ss
34% [pharmacologically active moieties,
C
max,ss
15%, AUC
ss
19%]).
Conclusions
Based on our simulations, no major changes in the pharmacokinetics of apalutamide or pharmacologically active moieties are expected with strong CYP3A4/CYP2C8 inhibitors/inducers. This observation supports the existing recommendations that no dose adjustments are needed during coadministration of apalutamide and the known inhibitors or inducers of CYP2C8 or CYP3A4.