01.12.2016 | Case report | Ausgabe 1/2016 Open Access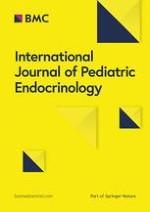 Positive fertility outcomes in a female with classic congenital adrenal hyperplasia following bilateral adrenalectomy
Zeitschrift:
Autoren:

Urania Dagalakis, Ashwini Mallappa, Meredith Elman, Martha Quezado, Deborah P. Merke
Wichtige Hinweise
Competing interests
Dr. Deborah Merke received research funds from Diurnal Ltd through NIH Cooperative Research and Development Agreement for an unrelated project. The remaining authors declare that they have no competing interest.
Authors' contributions
The first author and physicians were involved in the evaluation of the patient's case and preparation of the manuscript. All authors read and approved the final manuscript.
Abstract
Background
Classic congenital adrenal hyperplasia (CAH) requires lifetime steroid replacement and supraphysiologic glucocorticoid dose is often required for adequate adrenal androgen suppression. Patients often suffer from long-term co-morbidities and female infertility is common.
Case presentation
We report the use of laparoscopic bilateral adrenalectomy as a treatment for a 21 year old female with classic simple virilizing CAH and infertility. She presented as an adolescent with increasing weight gain, amenorrhea and elevated adrenal androgens despite the use of dexamethasone (250 mcg given twice daily), and fludrocortisone (150 mcg daily). An anti-androgen (flutamide 250 mg given twice daily) and a combined oral contraceptive pill were added to her regimen and prevented progressive virilization, but she eventually desired fertility. A bilateral laparoscopic adrenalectomy was performed at age 21. The right adrenal gland weighed 41.8 grams and the left gland 45.5 grams. There were no complications during the surgery.
Since the surgery, she has had a total of three pregnancies, resulting in 3 healthy full-term infants. Follow-up 7 years later at age 27 revealed overall excellent health with a BMI of 25.1 kg/m2, no evidence of adrenal rest tissue based on hormonal testing, above average quality-of-life based on 36-item short-form health survey and she has not experienced an adrenal crisis.
Conclusions
This case highlights the use of bilateral adrenalectomy as a treatment option for female infertility in a patient with classic CAH and difficult-to-control hyperandrogenism secondary to adrenal nodular hyperplasia. Outstanding quality-of-life, disease control and fertility were achieved.